You Have to Believe it to See it
An excerpt from Signs from the Other Side by Bill Philipps
Who hasn't wished they could ask a departed loved one for advice, heal an unresolved rift, or even just ask where their grandmother's strand of pearls is hidden? The best psychic mediums know what solace such messages can provide. They also know that communication with those on the other side can be cultivated by anyone with a sincere and open heart.
In Signs from the Other Side: Opening to the Spirit World (New World Library, March 5, 2019), beloved psychic medium Bill Philipps illuminates all of this for readers by demystifying what he does and providing step-by-step guidance that allows readers to receive afterlife communications themselves. We hope you'll enjoy this excerpt from the book.
# # #
I invited my dad to brunch one recent Sunday afternoon. We haven't always had the closest relationship, but fortunately it has strengthened with time. After a delicious meal and rich conversation, we were saying our goodbyes in the restaurant parking lot when a beautiful white butterfly fluttered our way. It danced in front of us, then circled us multiple times. It was obvious, at least to me, that it was trying to get our attention. I knew there was nothing random about its presence.
"Look at that," I said. "Mom is letting us know she is here with us." A split second after those words spilled from my mouth, I cringed. Why did I just say that out loud?
Faint hope, I guess. I braced myself for Dad's reply.
"Yes, she is," he said with sincerity in his voice as his eyes followed the butterfly's path.
I was stunned. And joyful beyond measure.
Anytime I had ever talked about receiving signs or other information from the spirit world, Dad laughed, joked, or scoffed. For personal and religious reasons, he never could understand why I had passed on a surefire career as an opera singer in favor of one as a psychic medium. In his defense, what parent wouldn't find that incomprehensible? That's why those three words from him were such a breakthrough in his mind-set and in our relationship.
He knew that since Mom's death in 1999, when I was just fourteen years old, I had believed that white butterflies were a sign from her that she was with me. I don't know on this day in the parking lot how much Dad truly believed it, but it appeared he had at least unlocked his mind and heart to entertain the possibility that she was responsible.
And that is exactly how every opportunity to receive a sign from someone who has crossed over to the next life must begin.
Each day, spirits are trying to connect with us to help us make decisions, find meaning in our lives, or navigate through difficult times. They try to create that link in a multitude of ways, such as with animals, electricity, music, dates, numbers, dreams, and coins. They repeatedly dangle these things right in front of us, and though we see them, we usually consider them nothing more than ordinary objects or coincidences that have no significant meaning in our lives. That's because we don't know how to view them as something more, or we simply don't believe.
How often have you made a decision based on a gut feeling? Isn't the result of your decision usually the one you had hoped for or expected? And how often have you said to yourself, "Something is telling me I should [or shouldn't] do this"? That "something" is your innate psychic ability, commonly known as intuition. It is a God-given gift that is seized upon by the spirit world to help guide you in your earthly journey.
What we often fail to realize is that even though a dead person's body is gone, their spirit is not. Their soul lives, not just in heaven but on earth. Sure, we may comfort ourselves by saying that we know they are around us or that we feel their energy, but do we truly believe they are present in our lives to the extent that they can communicate directly with us from the beyond at any moment?
They are, and they can.
If your first reaction is "I need to see it to believe it," make a couple of adjustments to that phrase and you'll be right on track: "I need to believe it to see it."
One day, when I was trying to navigate through some difficulties in my life and desperately longed for my mom, I asked her to show me a sign that she was with me. Believing that she would, and paying close attention to my surroundings, I was expecting to see the usual white butterfly. But instead, I received something much more definitive.
The next day I found myself driving behind a car with a license plate that read "YVONNE" — my mom's name. Not only is that a relatively uncommon name, but there are millions of registered vehicles in the vast state of California and only one with that plate. How did I end up in that exact place on the road at that precise moment behind that car the day after I had asked for a sign? Coincidence? No way. I think my chances of winning the lottery might have been better. Signs from the spirit world are literally everywhere. Fortunately, I was in a frame of mind that enabled me to recognize one.
In a world fraught with uncertainty, people are often searching for guidance in an earthly form but struggling to find it, so they are turning more and more to the "other side" for help. I witness it daily from those who reach out to me for readings or advice, many of them desperate to connect with a loved one who has passed. But the good news is that you don't need me to make that connection. Yes, with a gifted medium as a conduit, communication between you and the spirit world will be much clearer. But neither I nor any other medium can be that conduit for everyone all the time. That is why if you believe in the intuition you were born with and are open to the possibilities, the spirits will take care of the rest directly with you.
# # #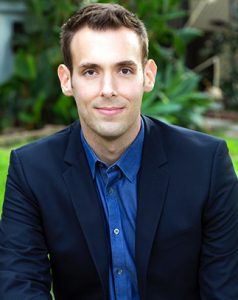 Psychic Medium Bill Philipps is the author of Signs from the Other Side and Expect the Unexpected. His life's mission is to help people deal with the grief of losing loved ones by bringing through validations, evidential information, and beautiful messages from Spirit, which heal and bring a sense of peace. Visit him online at www.billphilipps.com.
Excerpted from the book Signs from the Other Side. Copyright ©2019 by Bill Philipps. Printed with permission from New World Library — www.newworldlibrary.com.