Why Buddha Never Had Alzheimer's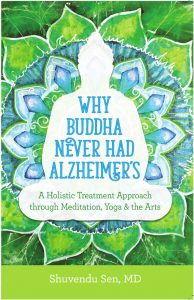 Guest post by Dr. Sen
Meditation has come a long way since its primordial moments in the deep recesses of a forest, where ancient sages practiced this art as a way of life. From the teachings of Buddha to the research-laden laboratories of Ivy League institutes, it has taken a groundbreaking journey, offering one blessing after another. Scientific tests run by the Mayo Clinic, Johns Hopkins, and Harvard Medical School, among others across the globe, are both testimony and tribute to the endless potential of meditation.
Modern medical management adamantly follows strict, evidence-based findings. Nothing is considered standard unless it is held in our palms and felt. Any proposed advance must follow formal research protocols. A hypothesis is stated; the hypothetical drug and a placebo are given to "active" and "control" groups, respectively, and the results of each are compared. If tests show significant benefits reached through statistical analysis, the drug goes through further trials before being considered therapeutic. Oddly enough, considering its philosophical origins, meditation has gone through identical research routes. The screaming headlines from various universities, much of which has been published in various journals, cannot be ignored. Meditation is being increasingly recognized as a powerful management tool for a variety of mental ailments. Specifically, it has emerged as a comprehensive therapy for minds affected by stress, depression, loss of memory, and other behavioral disorders.
"Prevention is better than cure," said Desiderius Erasmus. Allow me to take the next step, bend the Dutch philosopher's quote, and re-write it as follows: Prevention is the mother of all cure. Allow me to take you back to way before the fatherhood of Hippocrates, before any medical pedigree was created, to days of patient care when resources were scarce and ideas quite stilted, when diseases flourished and death wooed at will. How did the "doctors" address suffering in those days? How much was prevention, and how much was treatment? It is amazing how many scholarly, emotional, and financial resources we have delivered since then and continue to deliver in the cure of human suffering.
Yet how little do we invest in understanding the birth and development of a brewing disease before its obvious visibility. We doff our hats to the incredible discoveries pouring in from all corners of science. In cancer, for example, since the advent of nitrogen mustard (one of the first anti-cancer drugs), through the numerous permutations and combinations of chemotherapeutic drugs, radiation, and radioimmunotherapy, to the present surplus market of monoclonal antibodies—we have been hurling anything and everything at cancer that is at our disposal. Despite all these remarkable innovative strides, patients continue to succumb to the disease.
If you dig in the mud, you will know the reason. All these drugs and procedures are truly lifesaving, except that when patients present with signs and symptoms of cancer, the disease has already traversed many miles. It is common knowledge that at this advanced stage, any malignancy is meant to be recalcitrant, not by choice, but by definition. Once the blood or lymph nodes or the nerves pick up the mutated process from the primary organ affected, we are looking at a potential disaster. Reins at this moment will fail to harness the beast, which has been let loose and is determined to kill. The problem lies in our approach. We scientists are hunting for a light that is actually hunting for us. We are grappling with the trunk of a tree, when the roots are being left untouched.
When it comes to healing Alzheimer's disease, we face an identical crisis. Can scientists detect a pathology at its very inception? Can they diagnose the disease when only a hint exists? Along with our intellectual aggression to develop new cures, we must foster an equivalent fervor to capture the disease before it can mature. In order to do that, we need to remove the rust that has collected in the arts of diagnosis that used to be considered masterpieces. We need to start all over again, as students of truth, with the belief that permanence of any solution lies in the prevention of that very problem. Meditation and yoga, as well as spirituality and other holistic approaches offer the promise of such permanence in the art of their practice. They brew well before organs mature, and linger long after they wither. They become priceless accompaniments in our striving for a disease-free sojourn through life.
---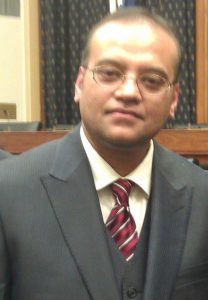 Shuvendu Sen, MD, is Director, Medical education, and Associate Program Director, Internal Medicine Residency Program at Raritan Bay Medical Center, Meridian Hackensack University. Dr. Sen has been named to America's Best Physicians, as well as many national and regional awards for received the Oscar E. Edwards Award from the American College of Physicians, as well as many national and regional awards for research, teaching, and community contribution.