The Grief Path: Mourning the Love of Your Life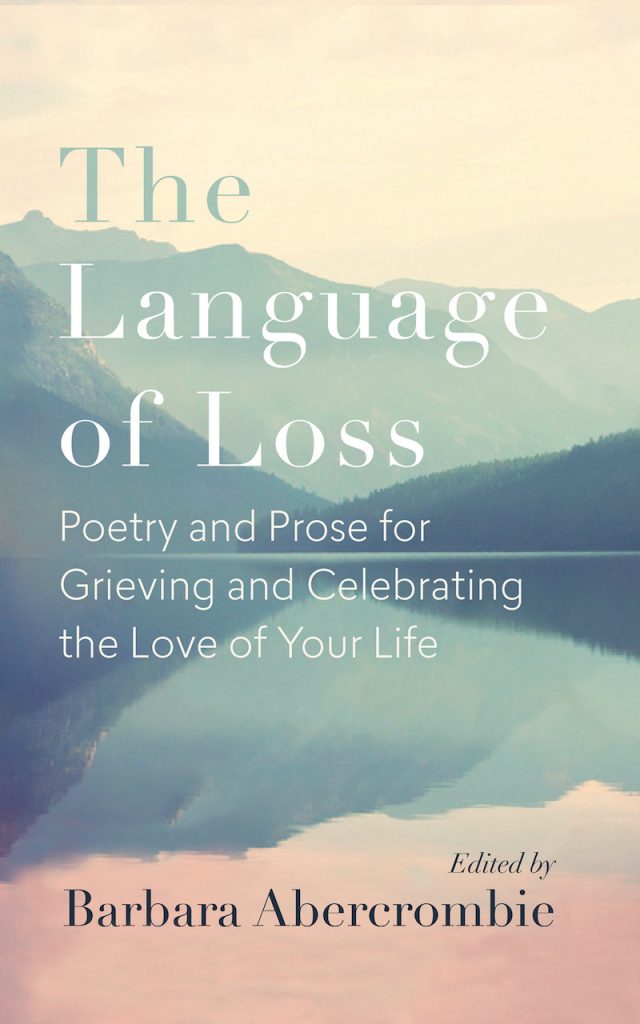 by Barbara Abercrombie, author of The Language of Loss:
Poetry and Prose for Grieving and Celebrating the Love of Your Life
I thought I knew about grief. I had been through the death of my parents. I certainly knew how much grief could hurt, how it could knock you flat like a wave sneaking up behind you. The difference is that when you're an adult and a parent dies, you go back to your own life. When your spouse or partner dies you can't do this, he or she was your life.


There's no way to prepare for this kind of grief. There's no way to imagine what it's like when the person you've loved and shared your life with vanishes. No way to comprehend the long journey ahead of you. How do you find a path for it? Can there even be a path through grief? And where can it lead?
With the first step into this new, unwanted future, I discovered the busyness of the newly bereaved – the necessity of things to be done. Decisions for a service and burial, an obituary to write, miles of paperwork, juggling a stepfamily, my own family, and friends. Then the service was over, family went home, many friends went back into couples, thank you notes were written, the paper work got done, and I felt more alone than I've ever been in my whole life. There was no path, only getting through it day by day, sometimes hour by hour.


One of my daughters thought I should join a grief group, which sounded like an oxymoron. My grief felt too singular, too deranged for a group. A stepdaughter wanted me to move out of the house so it could be sold. Blended families can add another layer of grief.


Reading and writing have always been my way through bad times. In the echoing silence of the months after my husband died, I looked to poetry and stories for solace. I wanted company – poets and writers who had lost the love of their life and could put the chaos into words for me. "Help me. Remind me why I'm here," is the final line of a poem by Kim Addonizio that I read over and over during those first few months I was a widow. This poem said exactly what I was feeling but couldn't say to anyone, and though I wept every time I read it, I felt I wasn't alone. The writer of this poem knew exactly what I was going through. That was comfort.


Mark Doty wrote in his memoir that while grieving for his partner he learned that "Being in grief, it turns out, is not unlike being in love." I wrote pages and pages in my journal about my husband, us, our life – lovestruck as well as griefstruck. I started writing a memoir about his final year. I talked to him, not only on paper and in my head but also out loud. I would go into his closet and touch his shirts; his shoes made me cry. I couldn't stand silence, yet music – whether country or opera – was too emotional to listen to, so I kept talk radio on day and night. When I was writing and I heard someone say on the radio the same word I had just written, I thought my husband was trying to reach me in code. Hope. Voice. Time. Self. Paper. I made lists of the words and tried to turn them into poems.


Jack Gilbert wrote a poem about his belief that his wife came back as the neighbor's Dalmation. Jan Richardson wrote in her memoir that the sudden appearance of sparrows signaled her dead husband was sending her a sign. Doriannne Laux ended a poem with a plea: "Give me a sign if you can see me./I'm the only one here on my knees." Reading these poets and writers made me feel less crazy for thinking my dead husband was sending me messages in code via the radio.


How do we get through this time, with or without signs from our beloveds? What we can't see in the beginning is that there is indeed a path – most likely twisted and full of sharp turns and potholes, but one that takes us forward. Sometimes my path was a sidewalk; I walked my dog for hours every day covering the same territory. I went through the motions of living my life – yoga classes and inviting friends over for potlucks, going back to teaching, but I wasn't myself and it didn't feel like my life.
I realized that time was pushing my husband into the past, further and further away, but I wasn't ready to let him go. I kept writing, I kept reading. I wasn't ready to let go of my grief; it kept me connected to him. Writing about him kept him in the room. I continued looking for poetry and memoir for solace, and also to justify feeling narcissistic in my grief, because the writers and poets I found were just as grief obsessed as I was, and grief after all is about the griever.


I found company in Hafiz who wrote "Don't surrender your loneliness/So quickly …." And in Kevin Young who wrote, "what's worse, the forgetting/or the thing/ you can't forget." When I read, I felt part of a world that made meaning out of pain.


After two years I began to realize that the tears, the pages of memories that I wrote, the miles I walked with my dog, the hours on a yoga mat, the time with students in my classroom, the potlucks in my kitchen, the volumes of poetry and memoir that I read – all of it was a path into the future. A path I had walked without knowing it was leading somewhere.


Finally, and this happened only gradually, I found myself remembering grief. Grief as something that I had felt in the past, no longer the wave that used to flatten me, no longer feeling grief in every bone and muscle of my body but thinking about how it had felt in the past. I still missed my husband deeply, but missing isn't grief. Missing is a feeling that can go on forever while you begin a new life. Whatever shape that new life takes, there's the possibility of joy again, even love. In the space hollowed out by grief there is room for your heart to expand, to open to the world, to grow and to give thanks for the love you once had. At the end of my path I was amazed by gratitude.
# # #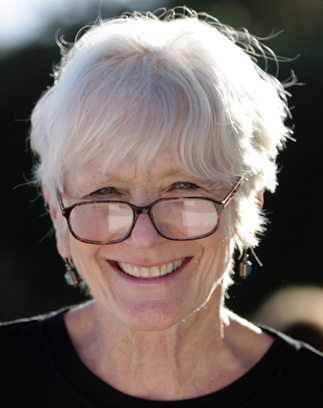 Barbara Abercrombie has published over fifteen books, including The Language of Loss. Two of her books were listed on Poets & Writers Magazine's "Best Writing Books of the Year" list. Her personal essays have appeared in many national publications and anthologies. She has received the Outstanding Instructor and Distinguished Instructor Awards from UCLA Extension, where she teaches creative writing. She lives in Pasadena, CA with her rescue dogs Nelson and Nina. Find out more about her work at www.barbaraabercrombie.com.