The gift of good health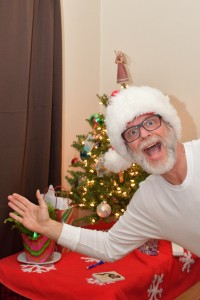 The other day someone asked me what my favorite gift was this holiday season.  I didn't hesitate to say, "The gift of good health for both my husband and me!"
A few years ago my husband was diagnosed with Coronary Artery Disease, having blockage in 3 main arteries and his cholesterol was off the graph. Obviously, his physicians wanted him to take meds, which he did for a short period of time.
We played with diets:  raw, vegetarian, paleo, we even considered starvation!  LOL..  (Well he did, I didn't.  I have a hard time fasting for more than a few hours!)  Nothing really worked, nothing was very satisfying.
Then we watched a movie, Cowspiracy.  It was a wake up call for both of us on many levels.  We began a 100% Plant Based diet.  Wait, let me say a 100% Planet Based Lifestyle because it has been more than just a diet.  It's our way of living. No, it wasn't easy at first. In fact, I've mentioned before that it was such a radical change I verged on being depressed. There was much to "relearn".
Here's the gift.  Last month we both had our blood work done and he had a physical. All of our numbers are perfect!  Absolutely perfect!  As I continue to work through a few health issues unrelated to that blood work, I am quite confident that this #vegan lifestyle is healing my life.
To his resident in training his doctor said, "Jeff was my worst patient.  His cholesterol was one of the worst I'd seen in someone his age.  He and his wife went on a vegan diet and now he has the best I've seen.  He healed himself with a vegan diet!"  (And that doctor is NOT a vegan.)
The gift of good health – there's no better gift to give yourself or your family.
Happy New Year!
P.S.  If you are looking to embrace a Planet Based Lifestyle and need support, send me a message through my contact page.  I'd be happy to send you my 10 easy tips choosing plants.