Serendipity – Being in the Flow
Serendipity is a faculty of making desirable but unsought-for discoveries by accident.  When the faculty is operating smoothly in your life, out-of-the-blue, Aha moments  and God-shots pop into your life.  I got so excited this week that I have to tell you!  I am in the middle of the flow of serendipity.
Serendipity ties into an aspect of my personal life philosophy in that sometimes we have to release how we relentlessly drive our actions in order to keep our pure vision in sight. We have to release control in order to trust that the universe will resonate with our dream and make it a reality without having to bang our head against the wall.
As New Years came, I was making a point to visualize and resonate with my intention and then let go of the compulsion to control the outcome.
So what happened? I took some time to listen to and enjoy Lisa Nichols' Creative Visualization tapes.  They transport me to a lovely space.
The next day, I awoke to learn that Hay House, the inspirational publishing company, chose my book "Rainbows Over Ruins" for inclusion in their Hay House Online Catalog. To be noticed by them is really huge to me and I am thrilled.  Even better, their choice was entirely outside my conscious quest to be included. That's the beauty of trust. That's serendipity.
And if that wasn't enough, the next day I met Lisa Nichols herself – and her son Jalani – on the show. What a lovely, energetic woman she is! She spoke to our Home & Family audience about how to talk with teens and her teen foundation.
Lisa has just published a new book, Abundance Now, so her life is filled with events to promote it.  And in the spirit of abundance and gratitude, Lisa is making these events free of charge.  She told me about it while talking backstage – and sharing a "high 5" over Hay House featuring my book.   And I will have the opportunity to attend.
Can you see how the energy flowed without any conscious intrusion on my part? That is the marvel that can happen when we are aligned with Source.  That is the "miracle" of developing your faculty of serendipity.
Needless to say, I'm celebrating. Thanks to Hay House, you may now find "Rainbows Over Ruins" online at Hay House Online Catalog, Amazon.com and Balboa Press.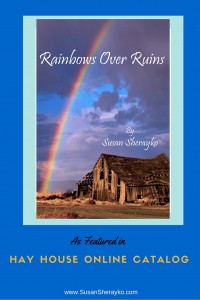 Here's a thought for today — Whatever your dreams, remember: Feel the essence of what you are creating now – not in the distant future. You want to hold the feeling with the vision and trust the process.  Over time, you will experience the amazing effect of serendipity as your subconscious mind brings you unexpected experiences.
To Your Success,
Susan