Role of Communication: Friendship v/s Relationship
Post by: Shweta Gautam
Communication is an important part of our life. I believe without communication, humans are no less than animals. The power to think and express our thoughts is solely what separates us from them. But, do we understand the impact, effect, and role of communication concerning the people in our lives?
We all have heard, read, and studied about the importance of communication in our lives. Though I have always seen people talking about communication from a professional perspective. I rarely see people share their views or rather initiate a conversation about the importance of communication in our personal lives. I don't see people talking about communication with family, friends, and relationships. But, I do know it is extremely important to have it.
As the literal definition of communication reads, "Communication is a two-way process. It includes a sender and a receiver". Hence, it is important to analyse communication from the personal front as much as we do it for our professional world.
My experiences about communication in both my friendships and relationship have taught me a lot in life. I now resonate and understand the similarities, the differences, and the potential impact it has on an individual. Having friends who understand your relationship and a partner who understands your friendships is a true blessing in disguise. Not all are fortunate to find both at the same time. While I have been lucky to have found friends at an early stage of life, my experience with love has been bitter-sweet. And as I'll recite the stories of the two important aspects of my life, that have given a lot to me, I am sure you all will relate to my personal experiences at some or the other level. So, let's begin with what came first – friendship.
Role of Communication: Friendship
My experience with friendship began very early in my life. And, I feel I am quite fortunate that I have my first friends as my present friends too, i.e. almost 21 years later I am still friends with the very first people I called my 'friends'.
I have always been the girl who is too shy and uninterested in talking to strangers but once we know each other I am an unstoppable chatterbox, quite literally. I met both my childhood friends in my school. Because our fathers were their childhood friends, all three of our fathers happened to send their children to the same school. And, we practically carry forward the legacy of their friendship. We went to the same schools, went to the same institutes, attended each other's birthday parties, shared our lunch during the school recess, and created a lot more memories together every day without actually taking any effort in doing so. The seriousness of our friendship can be measured from the fact that the three of us don't have a single picture together from our childhood. Because we were too busy living in the moment.
Two girls and a boy sitting together and eating lunch raised some frownings. Especially for our guy friend, he was teased by his friends for having lunch with two girls. Well, I don't blame them, the credit for the mentality goes to our society.
After sharing almost every big milestone, my friendships with both of them has only grown stronger. Moreover, if someone matters to me, I'll do all that I can to keep them in my life. And, communication is the very first step to that. Growing up together, we have had our misunderstandings.
As children, the arguments were as mere as misplacing each other's things or maybe snatching something or just random fights. As teenagers, it was the typical adrenaline rush that acted upon and led us to fight on things that didn't matter. Most of the time, the fights then happened because of the people who are not even a part of our lives today. And, as adults, we have had some serious issues. Sometimes it is our respective relationships and sometimes it was a pure miscommunication. Because text messages are so strong today to create any misunderstanding and not convey the right information.
Having both a girl and a boy as close friends teaches you a lot about life. These two people beside me, I have never felt the need to search for friendships outside. Yes, I do have other remarkable people who I can call friends too. But, who are your true friends? The names you remember in the most adverse situations. Well, these two are exactly that to me.
It wouldn't be wrong to say that our friendship would have ended a long time ago if we have not been vocal about our feelings. Our first school only had a middle school education. Therefore, I was separated from my best friend. She went to a different high school. And, the guy friend and I luckily went to the same high school.
On the first day of the new school, it was the first time in 14 years that I wasn't going to see my best friend waiting for me in the school outside the class. Though, at least we had the same institute to spend the other half of the day together.
A new place meant new people. It meant new friends. But, none of us ever saw our new friends as a threat to our old bonds. We knew it was irreplaceable. And that is the very essence of true friendship for us.
A true friend will understand the how and why behind your deeds and will never question you. If they find it wrong, they will stop and guide you for sure. And, today it's been 21 years since the three of us have been friends. We have had a lot of people come and go. But, irrespective of whether we meet or not, whether we talk daily or not, whether we celebrate occasions together or not, we are connected at hearts.
Adulthood is filled with breaking our expectations. It is the time of life that teaches us some of the hardest lessons. And, one such truth to life is – you don't get to spend your life with your friends. You spend your life with your partner.
Therefore, if there is one thing that strong and real friendships don't rely on – it's communication. We don't talk to each other daily rather we do it rarely. But, even then we know we will be there to double each other's joy and half the sorrows when needed. We know that we have a lot of people coming and going in our lives, but we will always find each other besides when in need.
Real friendships rely on trust, understanding, and respect. They are all about picking up from the same place where we left it last time, with the same emotion and thrill.
And, it is not only my childhood friends, as I mentioned I have been fortunate in the matter of friendships. Both my girlfriends from my graduation and post-graduation years are proof of that. Ever since I received my graduate degree, I only met her twice and we are perfectly strong without regular communication. We barely talk on phones, we wish each other on occasions, we support and celebrate each other's win on social media with a simple share and as a friend, this is everything we expect from each other.
I am not the kind of person who can be kept within boundaries. And hence, I prefer being friends with people who understand that as we grow and move forward in life, we meet new people as well. But, meeting new people doesn't mean forgetting the old ones. Every single person I have ever called a friend resides inside my heart with many strong and beautiful memories, some bitter ones too. But, in the end, they are all my experiences and my positive outlook on these experiences makes me the woman I am today.
Role of Communication: Relationship
Now since you know my experience with friendships, Let's continue to the most important aspect of my life.
I am an old-fashioned lover when it comes to romantic relationships. Probably this is the reason why my present relationship is the only relationship I have ever been in. And, to my belief, it will be the only relationship I'll have.
My love story might rather sound like a movie. But, while I prefer my friends to understand me even without any regular or daily communication, I have a contrary opinion about communication with respect to a relationship. I believe that as much as relationships require love, trust, and loyalty, communication is the fourth pillar that makes it strong.
How am I the right person to advise you on anything about a relationship? Well, we have been together for almost 7 years now. And to top that, we are in a long-distance relationship.
Told you, it sounds like a movie. We met on Facebook while we were in high school. Living in two different cities that we didn't even knew exist. 7 years down the line – in a long-distance relationship- both of us have learned a lot about each other, about love. And, one of the most important lessons is, if you don't communicate with your partner, you can't have a relationship going smoothly.
Whether it's an LDR or a normal relationship if you don't speak your feelings, you are ultimately risking your relationship and your well-being. Because, when things matter and you keep them inside, they bother you like hell. They can get onto your mental health. I have been there and I have felt that. And, the only way to deal with it is to be vocal about your feelings.
Being in a long-distance relationship, trust issues, jealousy, possessiveness are some of the factors that are sure to come, you simply cannot resist it. And, they are sure to come when you know there are a lot of people waiting for you both to break up. So, how do you deal with all the insecurities and that am-I-not-worth-it feeling? Well, you let your partner know how you are feeling, you let them know what's going inside your head and heart.
But, is that so easy? Is it so easy to just call and speak out every word? No, it isn't. While I am the person who believes in talking out to untangle the knots in a relationship, my partner wasn't this expressive always. As a writer, expression of thoughts is an embedded trait of your personality. But, my partner is the 360 degree opposite to me. He is quiet, reserved, take things to his heart, prefers to keep them inside to not "bother" anybody with his perception, and chooses to communicate when things are completely out of his powers.
It is a fun and learn ride when you are head over heels in love with someone opposite to you, stays 200 km away from you, meets you once in 6 months but loves you more than anything in his world. It has taken me 7 years to make him comfortable with communicating himself especially when I do something that bothers him. After all, we are all humans and mistakes are a part of our existence.
The one secret behind every successful relationship is that it has touch rock bottoms and still survived. We had the worst phase of our long-distance relationship about 2 years ago. This was the time when we felt it was all over and we have lost each other. We even did this "final talk" before parting ways. But, even if life screws you, it always has a backup plan too. Our back up plan was communication. Being away from each other, we didn't have anything else in our hands. The only thing we could do was talk about the unprecedented times. Hence, we decided to not call it quits and stay together for the sake of the beautiful past we had, for the sake of the potential future we had planned. And, we stuck through it. While a lot of people did everything in their power to separate us, we had them failed at every attempt all because we were up, front, and clear that we wanted to stay together, talk to each other and get through it.
The worst and the best part of the entire scenario was we dealt with all of it from the distance. It gave us this very important lesson of "whatever is meant to be will be yours". Though, I have a different perspective on that. I believe we have lived it all and will live for a few more years before we finally seal the deal with a kiss because we want to be together.
Every time we are asked about our relationships, the response to being in a long-distance relationship is just this thing – Is he/she loyal? While we always answer the question with a prideful yes, we know this question isn't leaving us for the next 2-3 years at least. That is how long we plan to take it forward as a long-distance relationship.
My relationship with my man is the most beautiful thing about my life. It is the very reason why I am a professional writer today. I am the artist (writer) and he is my muse forever. I began writing as a way to express my feelings to him. His love, even from the distance, has me bloomed into the woman I am today. Once he was this quiet and not-preferring to communicate kind of a person but seven years down the line, I am happy to admit he has finally begun to be vocal and open about his feelings.
Communication is the strongest pillar of any romantic relationship. While we expect the other person to know us better than ourselves, we often forget that building that bond and level of intimacy takes time. As I mentioned, I am an old school but a hopeful romantic. I fantasize a lot about dreamy getaways but at the same time, I know our reality of the present as well, which is nothing but distance. Hence, while we are working every moment to make this relationship a success, while we are hopeful about our future as a couple, we stay grounded to our reality. We are aware that we still have time to reach there, and along with love, trust, and loyalty, communication is the fourth wheel of our vehicle. And, we can't lose either of them to not just reach the destination but enjoy the journey as well. After all, we want a good love story to recite to our babies in the future.
This is what words do to you, once you begin, it's hard to stop. Well, we have finally reached the destination of this article. For me, the bottom line of communication for love and friendship with respect to my personal experience is:
"True friendships can survive with or without daily communication but true love requires communication to survive."
---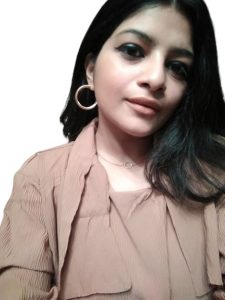 Shweta is a Lifestyle and Wellness blogger and writer. She provides writing services for businesses and coaches in the niche. When not working, she is usually found feeding her passion for braids. She is also an English language enthusiast. Follow her on Instagram to know more about her and her business.