Alliance For A New Humanity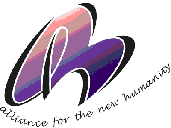 We are people from all regions of the world and from all walks of life – united by a common vision; to strengthen and sustain an actively compassionate humanity. Our movement is open to anyone who pursues our goal.
The purpose of The Alliance For The New Humanity is to connect sensitive and caring individuals, into a global human network to become catalysts in creating a more peaceful world. Our goal is to build a critical mass of like-minded people that will influence national and international policies moving toward a more compassionate and peaceful humanity.
The Alliance is assembling a multi-disciplinary, global network of opinion leaders, spiritual leaders, and social agents of change, to work together to help shape the overall strategy of this global movement for change. This team will operate within a new paradigm, which recognizes essential values such as love for the human being, social justice, respect for others, and the search for the sacred meaning of life.
Our Intention is to create an alliance of people based on the awareness of humanity's interconnectedness. We believe that if enough people share the value of peace, war can be brought to an end. If enough people shift their awareness toward social justice, human rights, and environmental sustainability, then injustice, oppression, and the destruction of the eco-system can be stopped. Such a shift is already occurring–now it needs critical mass, which in turn needs organization. The Alliance aims to connect individuals, caring communities and groups at a global level.
The Alliance recognizes at the core of its vision the unity of all life, and a wholehearted adherence to the noblest aspirations of humankind, as proclaimed in all spiritual and humanist traditions that call for compassion and the celebration of life. The values and principles of the emerging movement for a new humanity, and of the Alliance, which is trying to serve it, are based upon the support of policies, causes and actions that favor respect for life, human dignity, freedom, ecological sustainability and peace on our planet.