Intuition: Your Soul Signals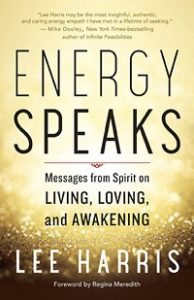 An excerpt from Energy Speaks by Lee Harris
Most of us intuitively feel that reality contains a spiritual dimension hidden from our five senses. For author Lee Harris, that spiritual dimension became startlingly real one day when he began communicating with "the Zs," a group of nonphysical beings from another plane of reality. At first, Lee dismissed the Zs as figments of his imagination, but they spoke with such wisdom and compassion that he became convinced of their existence. He quickly discovered that they had profound insights to offer into the big issues facing all of us: relationships, prosperity, health, and more.
In Energy Speaks: Messages from Spirit on Living, Loving, and, Harris distills the Zs' wisdom into a concise and practical guide for conscious living that promises that each one of us is an irreplaceable part of something much greater than ourselves, and that help is always available to us from unexpected sources. We hope you'll enjoy this excerpt from the book.
# # #
Our destiny is being reframed and reshaped every day depending on how we show up: The truths we tell. The choices we make. The willingness to grow and change.
Destiny says, "Okay, we'll give her this new boyfriend to help her get over the boyfriend she was with a year ago."
You start to date that new guy, but then you meet someone else, too — someone who is a lot more like your old boyfriend.
So this is the choice point. You're offered an upgrade boyfriend or the old pattern.
This time, you choose the old pattern. You choose what is your habit.
Now, even though it's not going so well with the old pattern in a new form, it's familiar. In a little bit of time, either you get to the point where you say, "You know what? I've already done this relationship dynamic before. Thank you. You're very nice, but this is not for me." Or your resolve crumbles and you go back into your comfort zone.
Six months later, you're looking sickly and have run out of energy. You're turning up at events holding the hand of the more predictable boyfriend, and your friends are nervous to say anything to you (kind of like you were with Jill). Your last boyfriend was a bit tricky, and they don't want to get in the middle of that again. Meanwhile, you're just going down, down, down, inside your own soul. Stuck in the habit.
It doesn't have to go that way. Your destiny path is constantly signaling you through your intuition. The beauty of intuition is that it's like a GPS installed by your soul — constantly rerouting and rewiring you based on your choices. It's calibrating you to more and more courage and honesty. It's leading you to greater empowerment and freedom of being and expression.
Of course, following your intuition doesn't mean that every wish is going to come true, that every situation is going to work out the way you first envision it, or that the path will be clear of all obstacles. Well, I had this intuition that I was going to be Joe Smith's girlfriend. So what happens inside you when being with Joe Smith isn't what plays out for you? Do you decide that your intuition isn't trustworthy? Do you mistreat yourself in some way? Or are you kind to yourself around the disappointments and hurts that you sometimes feel? Do you recognize that the situation has changed, and so, too, can you?
We get attached to various pathways, destinations, and outcomes. And we forget that the only attachment our soul has is to our growth. All it wants to know is: are we growing and expanding? Our soul doesn't say, "Yes, she needs to marry that woman named Yvonne, and it will all be great! Gay marriage is on the way, so that will work out well. They're going to have a house in Birmingham, and they're going to have three kids." No. The soul is overseeing the deeper undercurrents of transformation, less focused on the specifics. "She needs to experience empowered love without restriction."
Destiny says:
We put Yvonne there for her, and she didn't pick Yvonne. And while there was a possibility that she would stay with Yvonne, she walked away from Yvonne after a month because she was not quite ready for that depth of love. She chose the next one in line so she could see how painful her relationships can be when her choices aren't aligned with her innermost being, and she stayed with that person for six months until she got sick.
We are constantly redirecting and being redirected. And learning to tune our dial to the frequency of our intuition makes for a more fun-filled journey…no matter how many twists and turns there are along the way.
# # #
Lee Harris the author of Energy Speaks: Messages from Spirit on Living, Loving, and Awakening. He is also an intuitive medium, transformational leader, musician, and visual artist. In 2004, he began holding channeling sessions and readings in his home, and today he leads workshops throughout the world. A native of England, he is now based in California. Visit him online at https://www.leeharrisenergy.com.
Excerpted from the book Energy Speaks. Copyright ©2019 by Lee Harris. Printed with permission from New World Library — www.newworldlibrary.com.