In The Spirit Of Giving, Offer A Peaceful Respite To Those Who Need It Most This Holiday
Guest post by Kim Weiss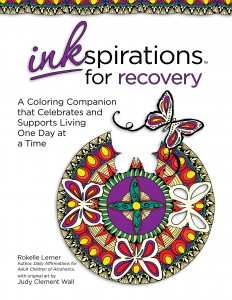 The trend this holiday season is all about 'giving' – not another ugly Christmas sweater, but something meaningful like a donation in the name of a family member or friend. Here's a novel idea; give adult coloring books to a worthwhile group and put smiles on many faces! The beautiful Inkspirations series of adult coloring books from HCI has something for everyone – from Gardening and Pets, to Recovery and Christmas Joy – even postcards and greeting cards!  To help make this a truly "giving" holiday, donate coloring books to your favorite charity, hospital, homeless or women's shelter, where some extra moments of peace and encouraged wellness would be welcomed.
Bringing a little peace and joy to someone is what the holidays are all about; something to help quiet the mind and
ease the soul. From HCI, the original publishers of Chicken Soup for the Soul, now comes a line of adult coloring books ready to encourage, inspire, and help worries fade. Art therapy has long proven its effects as an aid in emotional and mental restoration, and it is not news that coloring as active meditation reduces stress and quiets
thoughts. Inkspirations coloring books for adults offer a way to turn off negativity while healing the spirit.
With moving quotes alongside unique and graceful images, Inkspirations include a wide array of themes to help express creativity and enjoy therapy through coloring. To start overcoming heartache, releasing tensions, and building positive energy, readers can visit the new Inkspirations website.
The website is a reader's portal to a more colorful world, giving a peek at the wide spread of unique pages Inkspirations has to offer.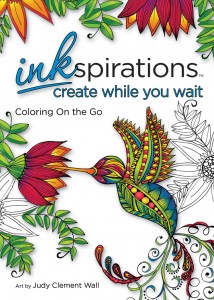 On coloring lists now:
Inkspirations Create While You Wait

Create beautiful art wherever you are with this portable coloring book.  Next time you're waiting—at the doctor's office, in the airport, or on the bus—stop stressing and start creating! In today's busy world, finding peace can be a challenge. Now, with this unique, compact coloring book, you can use those idle moments to foster your creativity and enjoy a sense of calm. Perfectly sized to fit into a purse, pack, or pocket, Create While You Wait will help you color your day brighter wherever you go. A special binding lets you lay the book flat, and the unique horizontal layout is perfect whether you're left- or right-handed. So grab your colored pencils, crayons, markers or pen—and find your inner Zen. Created in conjunction with AARP, see more at www.aarp.org/coloringbooks.
Inkspirations Christmas Joy
Christmas is a time of magic, and now you can color your season even brighter with more than thirty original, festive designs, plus 12 pages of DIY projects including color-your-own gift tags, postcards, wine tags and more! From highly detailed to fun and free-flowing, each design will deck your heart and home with the holiday spirit. Designs include: trees to make your own; winter wonderlands, polar bears and penguins; charming gingerbread houses, wreaths, and stockings; whimsical scenes of snowmen and ugly holiday sweaters; a Santa sighting or two, plus heartwarming expressions of holiday cheer written in exquisite typography.
Inkspirations for Dog Lovers
Dogs are our loyal, playful, energetic, goofy, and brave companions who color our lives with so much joy―now you can bring them to life on every page with this captivating compendium that celebrates the glory of canines throughout the seasons. From Boxers, Bulldogs, and Beagles, to Pomeranians, Poodles, and Pugs, to Shepherds, Shih Tzus, and Siberian Huskies, this eclectic mix of original artwork showcases the many ways in which dogs warm our hearts no matter the season. Whether it's a spirited puppy romping through the first spring tulips, two Golden Retrievers sprinting against fiery autumn leaves, or a curious Lab leaving fresh paw prints in the winter snow, our furry friends color our world brighter every day. Inkspirations for Dog Lovers is a fitting tribute to the canine kingdom.
Inkspirations Fruit of the Spirit

In a world that's not always black and white, it's often challenging to put the fruit of the Spirit into practice, but this captivating coloring book offers an enjoyable way to quiet the chatter, tap into your creativity, and spend some reflective time with God. Stunning original art is paired with powerful Scriptures that eloquently embody the fruit of the Spirit, inviting you to immerse yourself in the meaning of the messages and cultivate them in everyday life. This is a perfect way to relax and unwind as you create beautiful works of art while rejoicing in the blessings of the Holy Spirit. Celebrate your faith in full color!
There's even Inkspirations Greeting and Post Cards to personalize and send to someone or give as a gift.
Also see www.Inkspirations.com/shop for:
Inkspirations in the Garden
Inkspirations Animal Kingdom
Inkspirations for a Happy Heart
Inkspirations for Cat Lovers
Inkspirations for Women
Inkspirations for Recovery
For more information, please contact Kim Weiss at (800) 851-9100 ex. 9212, or kimw@hcibooks.com
##