Excerpt from the Freedom chapter in The Book of Truth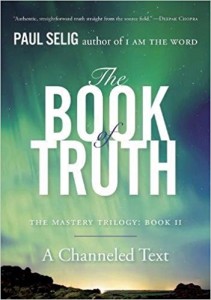 Excerpted from The Book of Truth by Paul Selig with the permission of TarcherPerigee, an imprint of Penguin Random House. Copyright © 2017 by Paul Selig.
Now, we will say this for you. Some things are required. You hold yourself in a body, you are required to care for the body, you have a livelihood at this time because you've agreed to a world that operates in commerce. As you bypass the systems of control or agreed upon ways of exchange, you actually call higher ways into manifestation. At this juncture, we will say, few of you are prepared to release the life that you've claimed in worry or in expectation to what might be born as you and for you in a higher way.
Here we go:
"On this day I choose to release myself from all expectations of how things should be, or what they should look like as perceived by the small self. And in this claim of freedom, I realize myself as the one who is independent from the foils and beliefs of collective agreement that would seek to hinder me from my true expression as my True Self. I know who I am in truth. I know what I am in truth. I know how I serve in truth. I am here. I am here. I am here."
This is a claim that is made by you to re-create the self outside a fixed agenda or outside of the perceptions that you are holding in investment because you cannot imagine yourself without being realized in certain ways. Even the identity you hold that was prescribed by you as who you should be seeks to impale you in a series of ways upon the intractability of physical manifestation.
What this means is that if your belief that your progress is dependent upon anything in form, you are using that thing to justify and claim you in a small way. It can be anything, you see. "When I have the perfect marriage, or the perfect employment, the perfect practice, the perfect insight, the perfect realization, I will be here as I truly am. But until that moment, I will wait and claim this thing as what I require to be free."
The only requirement for freedom is realization of what you are, because the moment this is understood, all ties and tethers to what was created for you or by you to be in agreement to a system of control is leaving, is gone, is eradicated in truth.
Now we come back to the idea of truth for one reason only. The systems of control that we speak of, or the ways that you would seek to realize yourself through external manifestations, are never in truth. And we will tell you why. All that is in truth is present now in this very moment, in the eternal now that you have encountered in the reading of this text and through the alignment to the what that you are. The Divine Self operates as what you are in the eternal now. And anything that is not present as you is simply an idea of what is required to call you forward.
Now, this is confusing for Paul. "But there are things we need, and we call them into being. We require food, we go to the market. Don't tell me my needs are met now if I have an empty kitchen."
We are telling you something very different. The idea of expectation as something to strive to, or claim for, or bring yourself as in consort to at the cost of the present moment you stand in, is what is being addressed. The infinite now is always here. It is here as you, as you walk to the market, as you prepare your meal. But the justification of what you should be as predicated on some future event—"when I am this or that, have claimed this or that"—is never true because your realization only happens in the moment you stand in.
The path to enlightenment, if you wish to use that term, is always now because enlightenment is now and not on some prescribed date at some other point in time. Until you all understand that what you have done so far is prepare the way for manifestation that is already present as what you are, you will be confused by this. In a higher octave, the Divine as you is fully present, and the realization of this and the knowing of this is the creation of what you are in manifested form. You are not becoming what you are not, you are claiming what you are. And as you come to be at this alignment, in this awareness, the release of the lies that you have given credence to will claim you in freedom.