Crafting the Perfect Love Letter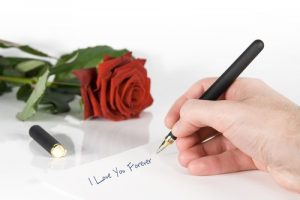 By: Dalma Heyn & Richard Marek, authors of How to Fall in Love
Let me tell you a story of a botched attempt at crafting love letters.
The hero of How to Fall in Love : A Novel is a master of love letters—of reading, collecting appreciating them.  He is putting together a retrospective of one of the greatest love-letter anthologists of all time, and in doing so, reads history's most elegant and familiar love letters, from those of James Joyce to those of Napoleon.  But, knowledgeable as he is, when it comes time for him to write a love letter to his own beloved, Eve, he caves. He can't do it. Here he is, surrounded by the world's most brilliant love letters, and he feels as if his own words will sound silly and empty and banal.  So he "borrows" those of the greats instead of speaking in his own voice, admittedly a rather tongue-tied voice, and pretends they're his own.
Of course that can't work! He's plagiarizing, for one thing. For another, he's broken the only one rule there is in love-letter writing, and that's SPEAK FROM YOUR HEART.  You can't copy another's love letters. You can't steal others' expressions of love.  You can't even mimic them. A love letter is nothing else if not a genuine, heartfelt, authentic, idiosyncratic articulation of your own very personal, very specific feelings for the unique object of your love. It's your rhythm; your humor; your way of relating.
Other than being as specific as you can about your feelings and making sure you're writing something pure and not loaded or hiding another agenda (a love letter must have no agenda other than to express your bursting feelings), there are no rules of craft. Unlike the business letter, with its carefully presented details and rigid format; or the letter of apology, with its crucially important elements of regret for bad behavior and desire to make it up to the offended person; the love letter is a completely wild and lawless entity. It can be on scrap paper. It can be written with lipstick on a mirror.  Nothing is limited to procedure, per se,  in the love letter—neither format nor grammar nor substance, even.  Only that the lover express with clarity and imagination precisely what's in the writer's heart, and do so, it is hoped, in a way that the beloved is touched, moved, charmed, amused.  It's a work of art, the love letter. Not replicable. It can't be duplicated because only the writer feels the specific feelings and he can't feel that way about anybody else or express himself to anyone else in this form. How personal that fact is! So his goal is to convey, maybe with some wit and imagination, that which will strike the beloved as real and true and specific to her. Specificity is key:  you're after connection, after all, and to connect well, your emotions must resonate with your lover.  And only you know how that can be done. Because after all, only you know her this well. It's your love  and your love alone that has broken through to her. You have a pipeline to her heart , as she has to yours.
If there are any "rules" at all, they're rules of forethought. You're bursting with the need to express your feelings—but is this a good moment? Is your lover so occupied with other things that to present a letter now is just  bad timing– and inflicting on her your deepest feelings is going to feel more like a burden than a joy? Are you writing a letter at a time you're bound to get hurt, or be cast aside—because of external events? Think carefully about timing.  And, are you able to put yourself  aside enough to speak only of appreciation and the miracle of love—and not, instead, itemize all the ways you're being boosted by love?  (A letter that says, in effect, I love you because you do this and this for me and without you I'd never have accomplished this and this and this…is an eloquent thank-you note.  But a love letter it isn't.)
A love letter is generous. It's specific. It's unafraid. It's in your voice. It's about the beloved and only the beloved. It's a bare-your-soul expression that only you can write—so write it when you feel emotions well up in your heart along with the glorious urge to express them.
***
IS YOUR LOVE LETTER SWOON-WORTHY ENOUGH TO WIN A TIFFANY RING?
New York Times Best-Selling Authors Share Tips to Win
The 2019 Love Letter Contest
In the era of online dating, Cupid's age-old trappings like hand-written love notes have fallen by the wayside. But this timeless display of affection will never go out of style. Given the rarity, a love letter could be just what you need to win over that crush, rekindle the romance, or even show your squad-love for Galentine's Day. When was the last time you told someone you loved how you really felt?  Where do you even begin?
Luckily, expert writers Dalma Heyn and Richard Marek have your back.
This husband and wife team of New York Times best-selling authors are sharing insight and advice to communicating love in the digital age.  
Whether it's platonic or romantic, Heyn and Marek will show your audience secrets to crafting the perfect love letter, the three things every lover note must have, and the complexity of communicating love in the age of Tinder. They also have examples of hilarious "worst ever" letters that encourage the audience to respond with their own "worst evers."
ABOUT THE 2019 LOVE LETTER CONTEST:
To celebrate the release on Feb 5 of their new book, How to Fall in Love, Heyn and Marek are on a nationwide search to find the perfect love letter. The 2019 Love Letter Contest runs until April 30, it is totally free to enter, and the winner will be announced on May 15.
The winner will receive:
A rose-gold Tiffany Paloma Picasso Love Ring  (valued at $500).
A framed, gorgeously hand-written copy of their letter.
Your winning letter shared (if the winner chooses) with our entire social network.
Participating is easy. All you need to do is:
Bare your soul in writing (okay, that part might not be all that easy).
Send your love letter to us at thestoryplant@thestoryplant.com.
That's it! (You might, of course, want to share the love letter with the person you were writing it to, but that's entirely up to you.)
To see the complete set of contest rules, click HERE.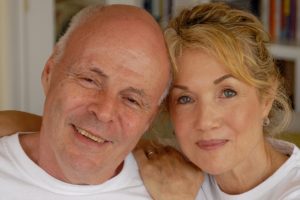 ABOUT AUTHORS DALMA HEYN & RICHARD MAREK:
Husband and wife team Dalma Heyn and Richard Marek are the authors of  How to Fall in Love , a provocative love story for the digital age. Heyn is the author of the New York Times best-seller The Erotic Silence of the American Wife, Marriage Shock and Drama Kings.  Her books, published in 35 countries, have been best-sellers both here and abroad. Richard Marek is one of the most accomplished book editors and publishers of his generation, working with writers James Baldwin, Thomas Harris, and Robert Ludlum, among many others. He is the author of Works of Genius and has ghostwritten a number of best-sellers.