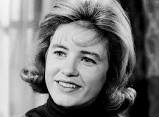 Like many of you, I was saddened to hear of the passing of Patty Duke.  I met the woman over thirty years ago when I was working as a receptionist at the then relatively small talent agency, Creative Artists, which represented both her and her husband, John Astin.
I knew her as Anna, her given name and one which everyone at the agency was requested to use.  If I didn't know the actress, Patty, I did come to know the woman, Anna.  She was gracious, funny, and warm.  And she spoke in an almost gravelly voice.
I loved her in the role of Helen Keller in The Miracle Worker, for which she won an academy award for Best Supporting Actress.  I was also a faithful viewer of The Patty Duke Show which aired in the early sixties (I can still remember most of the lyrics to the theme song.)
Probably my best memory of Anna/Patty is the time my sister came to Los Angeles to visit with her son, Jonathan, who was about to celebrate his fifth birthday.  I offered to throw him a little party and then realized that I didn't have too many friends with little ones back then.  I managed to "scrape up" a few kids, not wanting his party to be a disaster. When I mentioned this to Anna, she and John immediately offered to bring their two sons, Sean, who was a year older than Jonathan, and Mackenzie, who was a year younger.  I accepted their generous offer and John brought them to the party. Both parents were down to earth and very approachable.
Patty Duke, or as I knew her Anna Astin, was a lovely woman who left us far too soon.
The Patty Duke Show Theme Song
Meet Cathy, who's lived most everywhere,
From Zanzibar to Barclay Square.
But Patty's only seen the sights
A girl can see from Brooklyn Heights –
What a crazy pair!
But they're cousins,
Identical cousins all the way.
One pair of matching bookends,
Different as night and day.
Where Cathy adores a minuet,
The Ballet Russes, and crepe suzette,
Our Patty loves to rock and roll,
A hot dog makes her lose control –
What a wild duet!
Still, they're cousins,
Identical cousins and you'll find,
They laugh alike, they walk alike,
At times they even talk alike –
You can lose your mind,
When cousins are two of a kind.
Copyright: Lyrics © Original Writer and Publisher
LyricFind