Are You Willing to Choose Peace?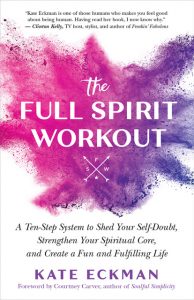 An Excerpt from The Full Spirit Workout by Kate Eckman
A friend recently said to me, "I just want to feel at peace."
"I understand," I said. "That is the ultimate goal for all of us. Are you willing to choose peace?"
"Yes," she said. Then I saw her eyes light up, like, Wow, that was easy!
And it is that easy. If you want love, choose to be in love, starting with yourself. I believe if peace and love are what we truly want, we will choose peace and love. Oftentimes, we think we want them but are still stuck in past wounds that make us feel more at home and "safe" in chaos, lack, and trauma. But just like we can decide to be willing to stretch before a workout because we know it will make us perform better and avoid injury, we can be willing to choose thoughts that empower us to get out of our comfort zone. That leads us into the life that's waiting for us to claim it — a life where we get to live in our divine perfection.
I don't think you have to move to a different city, change careers, start a new relationship, adopt a new workout routine, or go vegan to stretch your comfort zone, although I highly recommend all of that. It can be as simple (not easy, mind you, but simple) as choosing to look in the mirror and notice something you love about your body rather than thinking, Gosh, I'm looking older or Ugh, I have stomach rolls.
Say to yourself, I am willing to feel love, peace, and joy, instead of this. Make that a daily practice, and I promise you will start to think, look, feel, and be your most glorious self.
When we stretch our comfort zones, we automatically get to discover our greatness, our highest self. We find our true essence and desires, naturally attracting what lights us up and gives our lives meaning and purpose. Simply put, it is healing to stretch. And when we are willing to stretch, the universe responds to even our slightest invitation to assist us in our efforts. We are never alone. We are always cocreating.
If you've ever started a new business or family, I'm guessing it wasn't easy, and it wasn't painless. (If you are a parent, you are my own personal hero!) But I'll bet that allowing yourself to expand your personal boundaries and devote your most precious resource — time — to your cherished new venture opened up the space you needed to take on this exciting challenge.
When I recently took on a new project outside my comfort zone, I was able to keep taking steps forward because I first allowed myself to experience my heavy feelings and cry to a supportive friend. My tears washed the space clear for me to express myself. I'm learning that one of the worst things we can do is to pretend uncomfortable feelings like worry, stress, sadness, fear, and discomfort don't exist — or that we're somehow too precious, too positive, or too evolved to feel something other than pleasant feelings. When we are in that place of loneliness, fear, sadness, and discomfort, it's important not to try to jump right to gratitude or "positivity." Sometimes crying and acknowledging how much things suck, or how heavy our feelings weigh on us, put us on the fast train to returning home to ourselves, where appreciation and gratitude occur naturally. This certainty offers me peace, just as it did during that uncertain time.
The period of forced isolation we all experienced during the pandemic was a deep stretch for all of us, and while seclusion could feel uncomfortable, I also noticed benefits. For example, many of us learned, or relearned, how little we really need. It helped me remember to be more simple and minimal in my day-to-day living. We also had more time to reflect on and challenge old ways of thinking — giving us spiritual fitness workouts. I brainstormed new ways to help clients and, in turn, myself. I saw old problems in a new light and was able to devote energy to discovering new ways of being because, quite simply, why not?
And just like physical exercise has cumulative effects over time, so does spiritual fitness. Once we start stepping out of our comfort zone, it gets easier. We become more and more comfortable with our own discomfort. Awesome, right?
# # #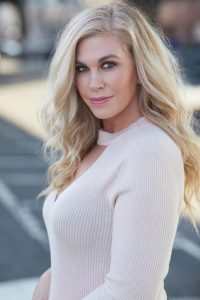 Kate Eckman is the author of The Full Spirit Workout and a Columbia University–certified executive leadership coach. She leverages her experience as a well-known communications, performance, and mindfulness expert, accomplished entrepreneur, and elite athlete to equip leaders with the tools, methodology, and energetic boost they need to excel. Visit her online at http://www.kateeckman.tv.
Excerpted from the book from The Full Spirit Workout. Copyright ©2021 by Kate Eckman. Printed with permission from New World Library — www.newworldlibrary.com.