Adventures of Mustang Sally Excerpt
This is an excerpt from the book "Adventures of Mustang Sally" by Don Rashke and Mustang Sally.
Not much has changed up here in the Wisconsin woods. I'm glad about that because I really don't like surprises anymore. Lucy and I have the whole place to ourselves. Once we unpack all our stuff and settle in, Don takes the ATV out on the road and lets Lucy and me run on our own alongside or a little bit in front. It feels good to stretch my legs after all that time in the car. My Pal even lets us go into the woods along the road. But he always calls out "far enough" so we know when to come back to him. Whenever we go for a run, Patricia worries that something will distract us in the woods and we'll get lost. I guess she just can't forget that winter up here with the bear. But it's warm now and sound travels well. We can always hear Don calling us.
Sometimes, just for fun, Lucy and I fool our Pal and come out of the woods way in front of him. I think even he gets a little worried when we do this. In his really serious voice, he'll say: "Stay near me." Then he turns the ATV around and we run back home. Running in this warm air makes me tired and thirsty. As soon as we get back to the cabin, I head straight for my water bowl. It's nice and cool in the house so Lucy and I lie down and take a little nap.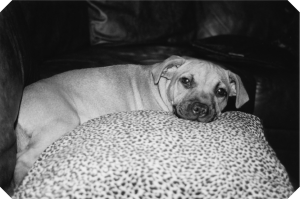 What we don't know is that while we're napping, Patricia goes into town and gets some big balls for us to play with. When we wake up, she throws one onto the veranda and Lucy and I charge after it. As hard as I try, I can't get a bite of this ball. So I try a different strategy. I push it into the corner of the porch. But then Lucy comes over and pushes it away. We both chase this pesky thing again and corner it. By now, we're both pretty upset that we can't get our mouths around this ball. And you know that we Staffies have big jaws. Patricia laughs and says to Don: "They're having a ball with this." I think she's making a joke.
All I know is that I'm getting tired again. Lucy is so fast that I can't keep up with her. I try one more time to grab the ball with my jaws wide open. Then I give up and go inside to rest.
The time I like best up here is early morning. My Pal Don hears Lucy and me moving around and he gets up too. The three of us jump in the car and go out to get some coffee and the morning paper. When we get back, if we've been good, Don gives us a treat. Sometimes it's leftover steak from the night before, sometimes fish. I think they bring it back from a restaurant where they have dinner sometimes. Wherever this stuff comes from, it's always good. Don calls my name first and gives me my piece. Then he calls Lucy. That way, we don't have to fight to see who can snap it up first. Sometimes, Patricia forgets to do it this way. Then, because Lucy is so much faster than me, she always gets there first. That's just not fair.
A little later, after we've had our treat, Patricia gets up and has breakfast. Then she takes us for a walk. Usually we behave, but today Lucy and I take off into the woods after a deer. Lucy comes back out right away, but I follow the deer for a while. As Lucy told me later, Patricia gets worried when I'm gone for so long. She and Lucy hurry back to the cabin to tell Don. He gets out the ATV and crosses over the road into a small woods. He yells back to Patricia to wait on the road. Don's calling out as he's moving. He can't see that I'm just behind him. Patricia sees me from the road and comes over to get me. After she puts me in the car, she chases after Don to let him know she's found me. As you can see, even with just the four of us, there's always some excitement around here.
When we have visitors, it gets even more interesting. This weekend, two of Don's sons—Rich and Dan—come up. Rich brings Carley, his year-old Golden Retriever, and Dan brings my son (and Lucy's brother) Mak. The four of us dogs really mix things up. There's never a dull moment. But if it starts getting a bit wild and I want to be left alone, I let Mak and Lucy know that their mom's still in charge. With these kids around, it's a lot of fun. But it can be exhausting and I have to pace myself. One thing's for sure, I sleep really good at night up here.
Later in the summer, Don's brother Richard comes up again and so does Don's cousin, Frank. Frank loves dogs. Back at his own house he has Springer Spaniels, so we get along great. Of course, Richard is still a cat man, but he doesn't mind us. He'd just rather be fishing or playing his horn. Don says Richard is a great writer of books. I'll have to listen up and see if I can get any tips from him. It sure would be great if I could write a book, too.
About the authors
Staffordshire Bull Terrier Mustang Sally is a retired AKC dog show competitor with five champion pups of her own. Originally from England, Mustang Sally currently resides in Montgomery, Texas, and enjoys playing outside with her pups and the Rashke family.
Prior to moving to Texas and marrying Patricia, Don Rashke was the founder and CEO of a successful employee benefits services company based in Wisconsin. After they adopted Mustang Sally, the Rashkes set up Mustang Sally's Kennel, and Sally and her pups later won many ribbons in dog shows across the country.