Weekend Getaway to Pechanga Resort Casino!
Just a short drive from the heart of  Los Angeles there's an amazing resort and spa that gives you the feeling that you are on a luxury vacation! Pechanga Resort Casino is located in Temecula, California and includes a casino and golf course along with its spa, swimming pool and other amenities. Greg and I recently spent the weekend there and had a fabulous time!
We arrived Friday evening, checked in, had a quick bite and then went to their Comedy Club for some drinks and entertainment. Lots of laughs! Then we hit the hay early because we had an early wake-up time to go hot air ballooning!
The van picked us up at 5:30 am and drove us to the Europa winery, where A Grape Escape (HotAirTours.com) whisked us off to the field to meet our balloon. We watched the balloons fill up, and climbed into the basket with the rest of our group – and away we went! Up, up and away! I had no idea what to expect, but honestly, it was totally relaxing. Everyone had a great time. There's no wind up there because you're going with the breeze! The scenery was beautiful – lots of vineyards, and we got some amazing pics. The hour flew by quickly – it was a bright blue sky day and we enjoyed every minute of it.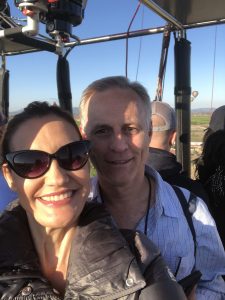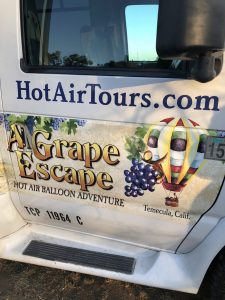 Back at Pechanga I checked into the spa for my 10:30 appointment. The spa is all new, and totally GORGEOUS! They served me some orange-passionfruit-ginger infused water while I waited for my massage in a cozy white robe. This is the life, right? I got my choice of aromatherapy for the massage and it was delightful. Then a reflexology massage for my tired tootsies, and then a Sound Wave Massage on an anti-gravity recliner that took me off into a deep meditation. I could have stayed there all day – they have a beautiful whirlpool, sauna, steam room, sun porch, snack and hang-out room – very inviting and so refreshing.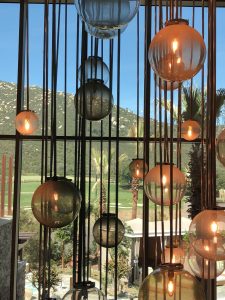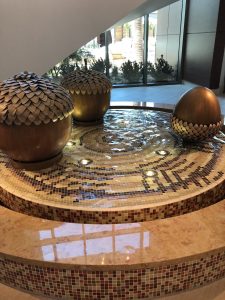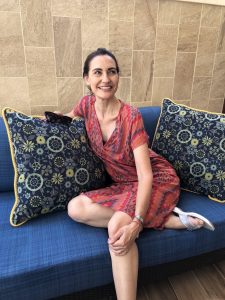 Then it was off to lunch – Greg and I are vegan and the restaurants at Pechanga are super flexible and accommodating so we always had delicious meals. We split a strawberry salad with citrus vinaigrette and a taco bar -perfect food to eat while hanging out by the pool!
After lunch we participated in a cocktail class on the lawn where we learned how to make a margarita (it was Cinco de Mayo after all!) and a Mint Julep (it was also Kentucky Derby weekend!) and a Banana Colada. Good stuff to know! Greg is a big margarita fan, so this was likely his favorite part of the day.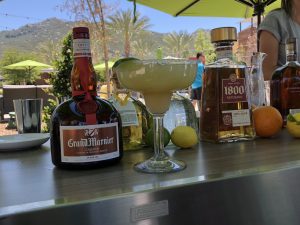 Then we indulged in a little personalized, home-made aromatherapy products from Body Bliss back at the spa.   Oooh – la- la!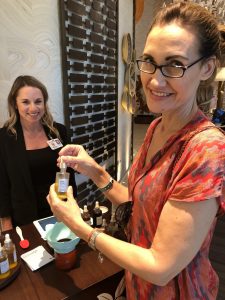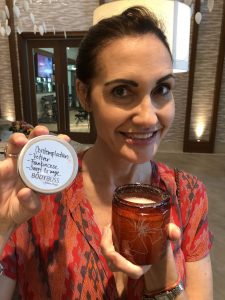 We had just about enough time to shower and change for a lovely dinner in one of Pechanga's 13 restaurants. When the chef heard that we were vegan he came out and said he'd create a special meal for us. We of course took him up on the offer and were not disappointed. We started off with a crunchy salad with quinoa and apples – and then a beautiful pasta primavera dish with kale pesto. Paired this with a delicious rose from one of the local wineries.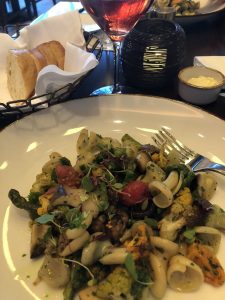 For dessert – the dessert bar was set up outside and included a variety of home-made sorbets – the mango was my fave! They also had decadent macarons in every flavor you could imagine, and a variety of ice cream sandwiches.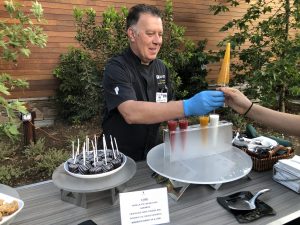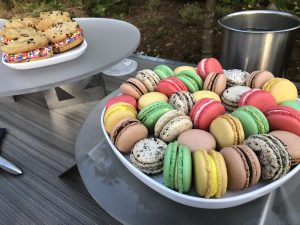 The next morning, while the rest of our group golfed, Greg and I opted to sleep in, then take in the view of the course during a hearty breakfast. Strawberry and blueberry waffles… yummy!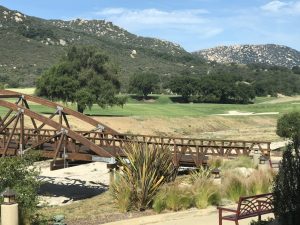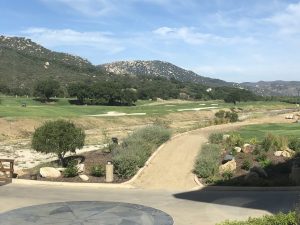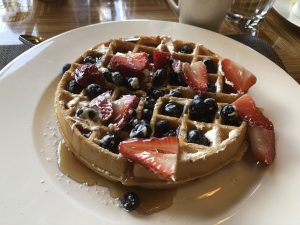 We got so much fun into such a short amount of time! If you're looking for a weekend getaway for romance, or with family or friends, Pechanga has a lot to offer. Oh, yes, they have a casino, too! 😀
About Pechanga Resort & Casino
Pechanga Resort & Casino offers one of the largest and most expansive resort/casino experience anywhere in the United States. Voted the Number One casino in America by the readers of USA TODAY and rated a Four Diamond property by AAA since 2002, Pechanga Resort & Casino provides an unparalleled getaway. Offering more than 4,000 of the hottest slots, table games, world-class entertainment, 517 hotel rooms, dining, spa and championship golf at Journey at Pechanga, Pechanga Resort & Casino features a destination that meets and exceeds the needs of its guests and the community. Pechanga Resort & Casino is owned and operated by the Pechanga Band of Luiseño Indians. For more information, call toll free 1-888-PECHANGA or visit www.Pechanga.com. Follow Pechanga Resort & Casino on Facebook and on Twitter @PechangaCasino. Pechanga Resort & Casino is open 24-hours. Guests must be 21 and older to enter the casino.