The Plush and Pretty PediPocket Blanket!
If you're like me, you work hard all week long and Friday night comes along and it's time to kick back and relax! Couch, TV, kitty cat… what else do you need? A cuddly blanket, of course! I'm kind of a blanket connoisseur. I'm always cold (hey, I'm a Vata! – check out whatsyourdosha.com if you don't know what that means!) My mom crochets and has made me some beautiful blankets. The only problem with blankets knitted or crocheted is that they are heavy. Too heavy to travel with for sure, and too heavy for summer. So I've been on the look-out for a light-weight comfy blanket that looks beautiful enough to keep on the couch, and that I could throw in the car when I travel.
I found one! And BONUS is that it is super long for my long legs, and it comes with a nice little pocket for my cold tootsies!  It's the PediPocket – and it comes in a variety of colors – you can check it out here: PediPocketBlanket.com
The PediPocket has Clara's pawprint of approval as well 🙂  Look how cute we are!!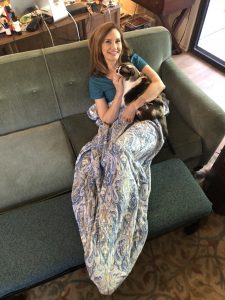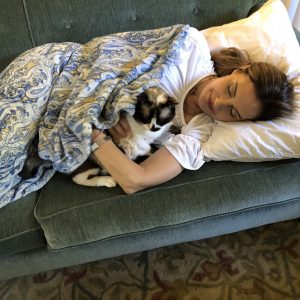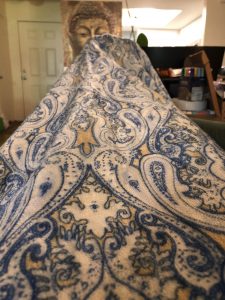 I love the pretty paisley pattern – it goes great with my blue sofa! Plus, the PediPocket is machine washable and dryable, just follow the easy care instructions. The fabric is a plush fleece that feels super luxurious. It doesn't shrink or wrinkle. I can toss it in the back of my car and take it anywhere I go. It can easily double as a picnic blanket! It's six feet long, so even my 6'4″ son with the size 12 feet can cuddle up with it!
So now I'm spoiled, and will be finding more excuses to kick back and relax mid-week. Just me, and PediPocket, the couch and Clara. If I'm not on that couch Clara's there without me anyway!