Winter's Bone
My Review:
Winter's Bone is an independent film which might be hard to find in some areas.  It's a dark story, that highlights the strength and determination of a 17 year old girl, played by Jennifer Lawrence.  This character, Rhee, is truly remarkable.  She is stuck in a small shack in the middle of practically nowhere in the harsh winter, raising her younger brother and sister and taking care of her mentally ill mother.  Life is difficult, but she does it every day, struggling to get food on the table and the kids to school.
One day a sheriff comes to the home and tells Rhee that her father got out of prison on a bond, for which he put the house up as collateral.  The father is now missing, so unless she can find him, she will lose the house.  The movie is about all this girl goes through to figure out what happened to her father so that she can continue to take care of her family.
Jennifer Lawrence is a revelation – there's lots of awards talk around her performance, it's amazing.  She carries the whole film.
---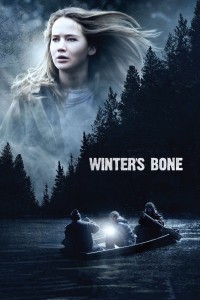 Winter's Bone
- -
---
---
17 year-old Ree Dolly sets out to track down her father, who put their house up for his bail bond and then disappeared. If she fails, Ree and her family will be turned out into the Ozark woods. Challenging her outlaw kin's code of silence and risking her life, Ree hacks through the lies, evasions and threats offered up by her relatives and begins to piece together the truth.
Photos
Storyline
---
---
Details
Box Office
Company Credits
Technical Specs