There Will Be Blood
My Review:
Daniel Day Lewis earned an Oscar nomination for his leading role in "There Will Be Blood," a movie that was nominated for Best Film.  Certainly, the production value is stellar, and the acting is amazing.  This is definitely a movie lover's movie.
It was about ten minutes in before there was any dialogue.  We meet Daniel Day Lewis' character as a young man just getting started in the oil business.  He works hard, and suffers, obviously putting everything he has into making himself and his company a success.  And it finally pays off, big time.  When one of his workers, a single father, dies in his well, he takes the boy as his own.
As the business grows, the man becomes more greedy, and more desperate, and more corrupt.  He buys land in California, and drills like crazy.  He makes promises he can't keep, and gets a whole town to buy into his vision.  Meanwhile a bad accident leaves his son deaf, and a long-lost  half brother comes back into his life.  If there's one thorn in his side, it's the local evangelist.  A real battle between the two, and in the end, no one wins.
This is a dark movie – a real character study.  Interesting, but not for everyone.
---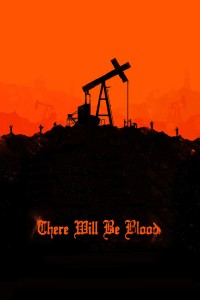 There Will Be Blood
- -
---
---
When Daniel Plainview - a ruthless oil prospector - learns of oil-rich land in California that can be bought cheaply, he moves his operation there and begins manipulating and exploiting the local landowners into selling him their property. Using his young adopted son H.W. to project the image of a caring family man, Plainview gains the cooperation of almost all the locals with lofty promises to build schools and cultivate the land to make their community flourish. Over time, Plainview's gradual accumulation of wealth and power causes his true self to surface, and he begins to slowly alienate himself from everyone in his life.
Photos
Storyline
---
---
Details
Box Office
Company Credits
Technical Specs