The Words
My Review:
The Words is a powerful, intelligent drama that keeps the audience guessing until the very end.  Bradley Cooper plays a struggling writer who faces a moral dilemma – and his decision has a long-reaching impact on the various characters.  Zoe Saldana plays the wife – elegant, passionate, trusting.  Jeremy Irons is the mysterious Old Man who turns the writer's life upside down.
This is the kind of movie you end up talking about all the way home.  There are so many "what if"s and unanswered questions that the viewer's perception of events plays a key role in the overall experience of the film.  Compelling.
---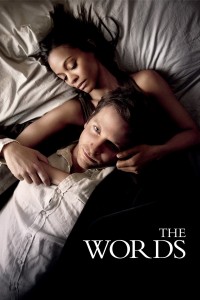 The Words
- -
---
---
The Words follows young writer Rory Jansen who finally achieves long sought after literary success after publishing the next great American novel. There's only one catch - he didn't write it. As the past comes back to haunt him and his literary star continues to rise, Jansen is forced to confront the steep price that must be paid for stealing another man's work, and for placing ambition and success above life's most fundamental three words.
Photos
Storyline
---
---
Details
Box Office
Company Credits
Technical Specs