The Visitor
My Review:
Richard Jenkins stars as a lonely and bored college professor named Walter.  Since his wife passed away a few years ago, Walter hasn't had much going on in his life.  He moves through almost on auto-pilot, somehow knowing that there must be some music playing for him somewhere.  When he is sent to New York to present a paper at a conference, he finds a young immigrant couple living in his apartment.  Rather than kicking them out, he offers to let them stay, and develops a friendship with them.  Tarek, the young man from Syria, helps Walter to get his groove back when he teaches him to play the drum.  But then, Tarek is arrested, and as an illegal alien, he faces deportment.  Tarek's mother arrives on Walter's doorstep wanting to know what happened to her son, and Walter opens his heart to this woman's plight.
I loved so much about this movie.  It's a sweet story, a wonderful glimpse at an aspect of life we are rarely privy to.  But it's also sad.  It's sad that our system is so ineffective, and that it is so difficult for good people to catch a break.
---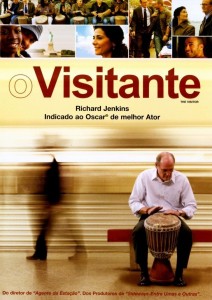 The Visitor
- -
---
---
A college professor travels to New York City to attend a conference and finds a young couple living in his apartment.
Photos
Storyline
---
---
Details
Box Office
Company Credits
Technical Specs