The Ultimate Gift
My Review:
he Ultimate Gift features mostly unknown actors, with brief appearances by Lee Meriweather, James Garner, and Brian Dennehy.  But the draw, and what got me in to see it, is our recent academy award nominee (for Little Miss Sunshine) Abigail Breslin.
The story is corny, and sweet.  It is something that would have been right at home on Lifetime Television or The Hallmark Channel.  Rich, spoiled slacker is offered an undisclosed inheritance, if he can pass a series of challenges.  Each challenge ends up being a gift – something the young man is supposed to learn to make him a better person, someone worthy of this undisclosed inheritance.  The guy is reluctant to get involved, but his curiosity gets the best of him and he goes along with it.
When it comes to the gift of friendship, he meets Emily (our cute Abigail!) and her young, single mother.  At first he things he can just use them, but as he learns more about their lives, he gets drawn in, and starts to care.  These two women end up changing his life, his attitude, and his perspective.
Drama, sadness, lessons learned and the requisite happy ending prevail.  A little preachy, but if you like an extra lump of sugar this just might be your cup of tea.
---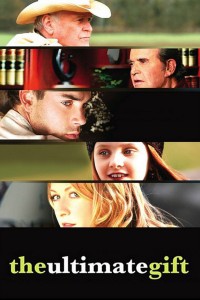 The Ultimate Gift
- -
---
---
When his wealthy grandfather finally dies, Jason Stevens fully expects to benefit when it comes to the reading of the will. But instead of a sizable inheritance, Jason receives a test, a series of tasks he must complete before he can get any money. Abigail Breslin and Lee Meriwether also star in this coming-of-age drama based on the novel by Jim Stovall.
Photos
Storyline
---
Details
Box Office
Company Credits
Technical Specs