The Social Network
My Review:
The Social Network is based on the real story of Facebook.  No matter how much we might know about it, since we all kind of experienced it from the beginning as this is very recent history, this film will open your eyes.  It is compelling from the first scene where we meet Mark Zuckerberg as he's challenging his girlfriend and she ends up breaking up with him.  In one of the many great lines from the movie, she says "You will always think that girls are not attracted to you because you're a nerd, but that's not the case, it's because you're an asshole."
The rest of the movie continues to prove that point.  Zuckerberg is not a likable character, but his portrayer, Jessie Eisenberg, gives him a vulnerability in his near desperation for acceptance. Andrew Garfield, who is super hot right now since it was just announced that he's the new Spiderman, plays Zuckerberg's best friend Eduardo.  He's very good in the part.
Justin Timberlake comes in as Sean Parker, the guy who founded Napster, and he brings the sleaze factor to these Harvard boys as he tries to cut himself in on what he sees as a billion dollar idea.
The whole film is cleverly written and very well executed.  We'll hear about it alot come awards season.
---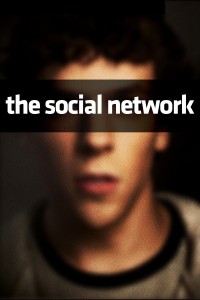 The Social Network
- -
---
---
On a fall night in 2003, Harvard undergrad and computer programming genius Mark Zuckerberg sits down at his computer and heatedly begins working on a new idea. In a fury of blogging and programming, what begins in his dorm room as a small site among friends soon becomes a global social network and a revolution in communication. A mere six years and 500 million friends later, Mark Zuckerberg is the youngest billionaire in history... but for this entrepreneur, success leads to both personal and legal complications.
Photos
Storyline
---
---
Details
Box Office
Company Credits
Technical Specs