The Silver Lining Playbook
My Review:
Sometimes simple is best.  The Silver Lining Playbook is a film about people who are real, relatable, flawed, and working really hard to figure it all out.  Bradley Cooper's Pat is fresh from the mental ward, and resisting medication for his bi-polar disorder.  He's pining for the wife that left him and has a restraining order against him.  Then he meets Tiffany, a young widow who is desperately wanting someone to not treat her like damaged goods.  They each find something in the other that helps them to heal.  Robert DeNiro is Pat's dad, who has an odd case of OCD that adds comic relief.  I loved this movie because of its heart.  Life isn't always easy, or hearts and flowers, but there's always something there for us to hang onto.  As I always say about The Law of Relationship: We're here to help each other learn and grow.  This story is a great illustration of that.
---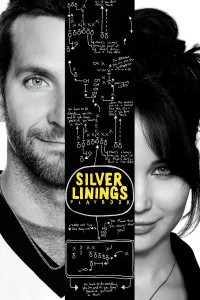 Silver Linings Playbook
- -
---
---
After spending eight months in a mental institution, a former teacher moves back in with his parents and tries to reconcile with his ex-wife.
Photos
Storyline
---
---
Details
Box Office
Company Credits
Technical Specs