The Secret Life of Bees
My Review:
I read the book: "The Secret Life of Bees" by Sue Monk Kidd and I loved it.  I loved the movie just as much.  The story is compelling, the acting is marvelous and the setting is beautiful.  Dakota Fanning stars, alongside Jennifer Hudson, Queen Latifah, Sofie Okenedo and Alicia Keys.  It's about loss, and family, and strength and the sweetness of life.  The story takes place in the south in the 1960's, so racial tension is a backdrop.  But the main story is Lily's.  She's a young girl who runs away with her nanny to search for the truth – and she ends up finding herself.
---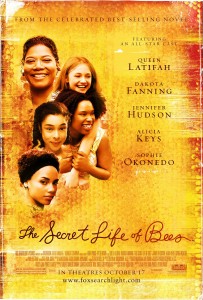 The Secret Life Of Bees
- -
---
---
Set in South Carolina in 1964, this is the tale of Lily Owens a 14 year-old girl who is haunted by the memory of her late mother. To escape her lonely life and troubled relationship with her father, Lily flees with Rosaleen, her caregiver and only friend, to a South Carolina town that holds the secret to her mother's past.
Photos
Storyline
---
---
Details
Box Office
Company Credits
Technical Specs