The Savages
My Review:
This is one of those movies that was a little bit difficult for me to watch because it hit so close to home.  I think a lot of us can relate to a drama about caring for a parent whose health is deteriorating.  That's the story with The Savages.  We first meet Wendy, played by Laura Linney.  Laura Linney is one of the most versatile actresses of our generation, and she has quite a body of work to prove it.  This may be the role that gets her another nomination.  Wendy is kind of a mess, personally and professionally, and when she gets the call that her estranged father needs attention, she doesn't handle the news well.  She calls her older brother, John, who  we can also see is ill-equipped to handle the situation.  But together, brother and sister do what needs to be done, and they move their father from Arizona to a nursing home in New York.  They have to deal with things that they have never confronted before.  And at the same time they have to deal with the emotions that are brought up by having to see their father again.  Really raw, honest dialogue, some epiphany moments for each character.
Phillip Seymour Hoffman plays John.  He's done great work this year, and a lot of it!
---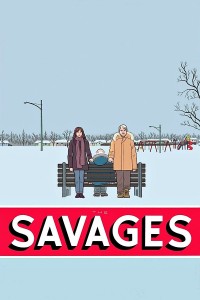 The Savages
- -
---
---
A sister and brother face the realities of familial responsibility as they begin to care for their ailing father.
Photos
Storyline
---
Details
Box Office
Company Credits
Technical Specs