The Pursuit of Happyness
My Review:
Based on the real life story of Chris Gardner, The Pursuit of Happyness stars Will Smith and his talented and adorable young son Jaden.  Chris struggles to support his family with his sales jobs, but when his wife, Thandie Newton, leaves him he and his son end up on the streets.
But Chris is scrappy, and intelligent and he knows he can do better for himself.  Against all odds he gets chosen for an internship at Dean Witter.  By day he works hard – and in the evenings he works harder, as a dad trying to find shelter for himself and his son, making every penny count.  At times it seems like his luck is so bad that the world is conspiring against him.  It's hard to watch sometimes.  We know he's a good guy, but he's got a really tough life.  What makes this character so likeable is his attitude.  He's a devoted father, and his son loves him, He keeps trying, he keeps hanging in there.  And eventually it all pays off.
Of course there's about an hour and 40 minutes of struggle for about 10 minutes of payoff at the end, but there is an uplifting message here.  If this guy can do it, any of us can.  Just don't give up.  Follow your dreams, don't let anyone tell you that you can't do it.  This movie makes you count your blessings, and it gives you hope.
Will Smith is in every scene, and this is the best he's ever been.  Jaden Smith is a natural, and we'll be seeing a lot more from this young man.
---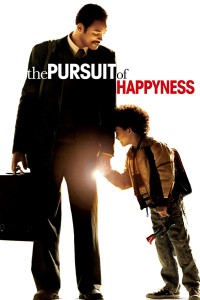 The Pursuit of Happyness
- -
---
---
Based on a true story about a man named Christopher Gardner, who has invested heavily in a device known as a "Bone Density scanner". However, the devices do not sell as they are just marginally better than the current technology at a much higher price. As Gardner tries to figure out how to sell them, his wife leaves him, he loses his house, his bank account, and credit cards. Forced to live out in the streets with his son, Gardner is now desperate to find a steady job; he takes on a job as a stockbroker, but before he can receive pay, he needs to go through 6 months of training, and to sell his devices.
Photos
Storyline
---
---
Details
Box Office
Company Credits
Technical Specs