The Prestige
My Review:
It's difficult to put "The Prestige" into a category because it certainly is original. And I think that's what I like best about it. The story is about the rivalry between two magicians, played by Hugh Jackman and Christian Bale. While Jackman's character is the better showman, Bale's character has the better technical prowess. Scarlett Johanssen is the woman who comes between them. There's magic, intrigue, and passion, both for the relationships and for the work. And with that comes trouble, and violence, and and tragedy.
Christian Bale is best known for his role as the new Batman – and he is absolutely mesmerizing as a charming take-chances magician. Hugh Jackman is a modern day renaissance man. I still haven't seen him as anything less than fabulous in anything he's done. Scarlett Johanssen has had much larger roles, but this one is pivotal, and really gives her a chance to show her vulnerability.
This is the kind of story that keeps you guessing. I figured out part of it about halfway through – but there's no way you can anticipate all that happens as events unfold. Pretty amazing.
---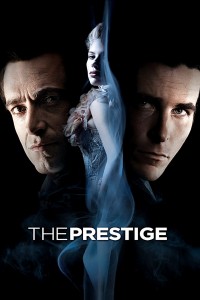 The Prestige
- -
---
---
A mysterious story of two magicians whose intense rivalry leads them on a life-long battle for supremacy -- full of obsession, deceit and jealousy with dangerous and deadly consequences.
Photos
Storyline
---
---
Details
Box Office
Company Credits
Technical Specs