The Other Boleyn Girl
My Review:
The Other Boleyn Girl is a historical drama about King Henry XIII (Eric Bana), and his relationship with two very different sisters.  Younger sister Mary Boleyn (Scarlett Johanssen) is the sweet married one who, in duty to her country and king, must set aside her husband and become the king's mistress.  She ends up having his child, but the king dismisses her for Ann.  Ann Boleyn (Natalie Portman) is the one who teases him, who convinces him to break away from the Catholic Church in order to annul his marriage and marry her instead.  She is ambitious, and conniving.  All of this is history, but a part of history we may not have been privy to previously.  It's a historical soap-opera!  Nice performances, great costumes – a fun escape.  Heavy duty, if you can remember how this story ends – so be prepared to discuss the choices made with teens.
---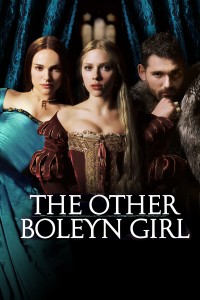 The Other Boleyn Girl
- -
---
---
A sumptuous and sensual tale of intrigue, romance and betrayal set against the backdrop of a defining moment in European history: two beautiful sisters, Anne and Mary Boleyn, driven by their family's blind ambition, compete for the love of the handsome and passionate King Henry VIII.
Photos
Storyline
---
---
Details
Box Office
Company Credits
Technical Specs