The Love Guru
My Review:
Mike Myers is a gifted comedian. Unfortunately, his are the gifts that keep on giving – over and over and over again.  The same basic jokes that were in the Austin Powers franchise are now recycled in The Love Guru.  If you like jokes about erections, the size of a penis, urine, animals having sex, little people (Myers pal Vern Troyer has a key role) being either being abused or being cruel, then you'll probably like this movie.  I think the problem is that Mike Myers' audience has grown up, but he hasn't.  And this is a shame, because the basic underlying messages in this movie: you can't love anyone until you can love yourself, and be the best you that you can be, are lost in so much of the mess.  There's a whole unnecessary sequence about a sports anchor's addiction, and his inappropriate comments on-air that totally misses.
I SO wanted to love this movie.  As everyone knows, I am Deepak Chopra's biggest fan.  Deepak is mentioned throughout the movie as the fictional Guru Pitka's (Mike Myers) perceived rival.  Deepak has a small cameo at the end, where he is sweet and genuine and lends some credibility to the circus at hand.  But it's pretty obvious to me that this particular scene, and the other scenes shot with celebrities Mariska Hargitay et al, were shot on green screen – we never see the celebrity and the Guru in the same shot.
Jessica Alba plays the owner of the Toronto hockey team (Myers is from Canada and a huge jockey fan).  She provides a love interest, by some stretch of the imagination, for the love guru.  She hires him to come out and get her star player back on track by reuniting him with his estranged wife.  Wife in question is having a fling with "The Coq," (Justin Timberlake, showing comedic chops) a goalie for the Los Angeles Kings, who got his name from being so well-endowed.
Ben Kingsley has a role as Guru Pitka's guru – and he teaches him "DRAMA" which is an acronym for some spiritual lesson that doesn't really make sense – it is a tool to move the action – the D being for "Distraction" – all a set up so that we get a glimpse of two elephants humping in the final moments, or shall I say "the climax" or the movie.
Of course, in the end it is Guru Pitka himself who learns the big lesson – and it all ends sweetly and happily with a cute Bollywood dance sequence at the end.  Loved the music throughout.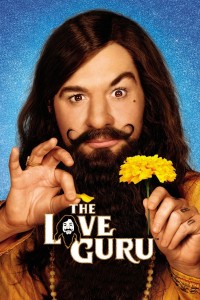 The Love Guru
- -
---
---
Born in America and raised in an Indian ashram, Pitka (Mike Myers) returns to his native land to seek his fortune as a spiritualist and self-help expert. His skills are put to the test when he must get a brokenhearted hockey player's marriage back on track in time for the man to help his team win the Stanley Cup.
Photos
Storyline
---
---
Details
Box Office
Company Credits
Technical Specs