The King's Speech
My Review:
The King's Speech is probably my favorite movie of 2010.  It's certainly in my top three – and I think this is the movie to beat come awards time.  This is the true story of Prince Albert, who became King George VI when his brother King Edward abdicated the throne to marry Wallis Simpson, an American divorcee.  George (played flawlessly by Colin Firth) takes the throne reluctantly because he has a stammer, and he is afraid this will affect the way he leads.  After trying several speech therapists, he finally gives up.  But his wife, Queen Elizabeth, who is Britain's current Queen Mum (played by Helena Bonham Carter) finds an unorthodox speech therapist, who is actually an out of work actor, Lionel Logue (played by Geoffrey Rush).  Fortunately, this therapist is able to make some progress with his patient, and the two develop a friendship.
The performances in this movie are stellar, and I expect that each of the leads will be nominees.  Guy Pearce is also wonderful as King Edward.
This is a must-see!  A great movie, and a nice history lesson.
---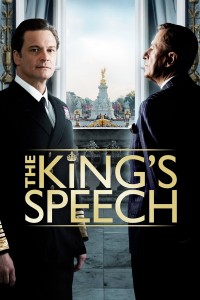 The King's Speech
- -
---
---
The King's Speech tells the story of the man who became King George VI, the father of Queen Elizabeth II. After his brother abdicates, George ('Bertie') reluctantly assumes the throne. Plagued by a dreaded stutter and considered unfit to be king, Bertie engages the help of an unorthodox speech therapist named Lionel Logue. Through a set of unexpected techniques, and as a result of an unlikely friendship, Bertie is able to find his voice and boldly lead the country into war.
Photos
Storyline
---
---
Details
Box Office
Company Credits
Technical Specs