THE INTERN
My Review:
Producer/director/writer Nancy Meyers creates adult comedies for, well, for adults. She has cast past hits like Private Benjamin, Something's Gotta Give, and Father of the Bride, with the kind of actors baby boomers would most likely feel an affinity towards: Goldie Hawn, Steve Martin, Diane Keaton, Alec Baldwin. This, and her gift for zeroing in on the lifestyle challenges associated with that generation (becoming a father of the bride, intimacy at a certain age, retirement) has given her an incredible track record for making hit films or at least films that are likely to draw that particular demographic.
The Intern, written and directed by Meyers, is the story of widower BEN WHITTAKER (Robert DeNiro) who would like to spend his retirement years doing something that makes him feel useful. Having worked for the greater part of his life he decides to apply for a position as an intern in an online startup company founded and run by a driven JULES OSTIN (Anne Hathaway) Though Ms. Ostin is hesitant to take on a "senior" as an intern, she eventually comes to lean on Ben both professionally and personally.
DeNiro, with the mere raising of an eyebrow, has the ability to play comedy with a subtlety not all actors can manage and much of the appeal of this film rests on his capable shoulders.
Rounding out the cast are a trio of young men (played by Andrew Rannells, Zack Pearlman, and Jason Orley) who are colleagues of Ben and who, rather than dismiss him because of his age, actually look up to him as does Jules.
Is this a realistic scenario? Probably not. But Meyers doesn't necessarily aim for realism; she sets out to create an enjoyable movie that, incidentally, makes one think about our perceptions of marriage, age, and so on. (The young actress who plays Jules's daughter, Paige, (Jo Jo Kushner) steals every scene she's in by the way.)
There is one particular instance in which Ben and the three young men set out to steal a computer (the details aren't important.) Watching this scene actually made me laugh out loud, something I don't do very often in a movie theatre. That in itself would make me recommend this film.
---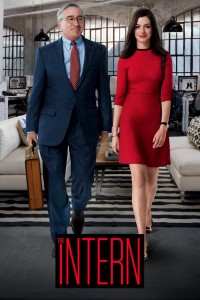 The Intern
- -
---
---
70-year-old widower Ben Whittaker has discovered that retirement isn't all it's cracked up to be. Seizing an opportunity to get back in the game, he becomes a senior intern at an online fashion site, founded and run by Jules Ostin.
Photos
Storyline
---
---
Details
Box Office
Company Credits
Technical Specs