The House of Flying Daggers
My Review:
Subtitled. Beautiful Chinese movie about a Robin-Hood type of group of criminals who fight against the military. Mei is the gorgeous young martial artist who gets in the middle of it all. The cinematography is breath-taking – the martial arts moves some of the best I've seen for this genre. And there's a love story! Great for a date-night. Good characters, strong story. Some cool girl power, too!
---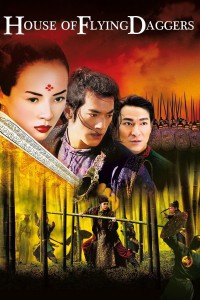 House of Flying Daggers
- -
---
---
In 9th century China, a corrupt government wages war against a rebel army called the Flying Daggers. A romantic warrior breaks a beautiful rebel out of prison to help her rejoin her fellows, but things are not what they seem.
Photos
Storyline
---
Details
Box Office
Company Credits
Technical Specs