The Holiday
My Review:
Ah, the romantic comedy!  We see too few of these.  "The Holiday" is a delightful date night movie – some might call it a "chick flick" but both my husband and my 17 year old son enjoyed it and they usually cringe at chick flicks.
Cameron Diaz and Kate Winslet, whose characters are both suffering from recent break-ups, decide to switch houses for two weeks over the Christmas holiday. At first there's a little bit of culture shock, but they each settle in nicely.  They each meet men, complications ensue, they learn just how great they are as women, and there's a happy ending.  What more could you want?  I loved it!
Cameron Diaz is darling.  She overacts a little, she's got that goofy thing going on, but somehow it works for her.  It's so nice to see Kate Winslet in something light.  She's a wonderful actress, and very good at comedy.  Jude Law is Cameron's love interest, and he's predictably charming.  We expect him to be the cad but he ends up being a really good guy.  Jack Black is sweet and sensitive as a composer who makes friends with Kate.  He's very attractive in this role!
The girls both do a lot of drinking in this movie – but other than that, there's nothing objectionable for young teens.
---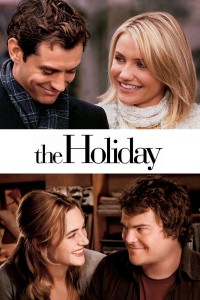 The Holiday
- -
---
---
Two women, one (Cameron Diaz) from America and one (Kate Winslet) from Britain, swap homes at Christmastime after bad breakups with their boyfriends. Each woman finds romance with a local man (Jude Law, Jack Black) but realizes that the imminent return home may end the relationship.
Photos
Storyline
---
---
Details
Box Office
Company Credits
Technical Specs