The Greatest Game Ever Played
My Review:
Finally, a movie I really love! The Greatest Game Ever Played is a true story, and one that had the audience applauding over the credits. No big names, just a great story – well acted, well told. This is the kind of movie the whole family can enjoy – but don't think you have to bring the kids! Greg and I went on our own and came home to tell Brian that it is a "must see." Shia LaBeouf plays Francis Ouimet, a downtown kid aspiring to play an uptown game called golf. He's a caddy with a real talent for the game, but because of he's not a "gentleman" he is discouraged at every turn. He is inspired by golfer Harry Vardon, whose background is similar to his own. This is one of those stand up and cheer scenarios, where you're rooting for the kid with the big dreams. Go see it!
---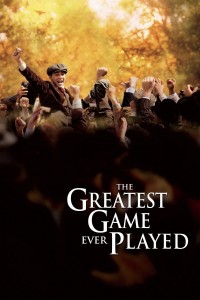 The Greatest Game Ever Played
- -
---
---
The Greatest Game Ever Played is a 2005 biographical sports film based on the life of 20 year old Francis Ouimet who defeated his idol,1900 US Open Champion, Harry Vardon. The film is directed by Bill Paxton; Shia LaBeouf plays the role of Ouimet. It is distributed by Walt Disney Studios. The film' screenplay was adapted by Mark Frost from his book, The Greatest Game Ever Played: Harry Vardon, Francis Ouimet, and the Birth of Modern Golf. It was shot in Montreal, Quebec.The film opened at #9 at the U.S. box office in its opening weekend grossing US$3,657,322.Set in 1913, the film is about golfer Francis Ouimet (Shia LaBeouf), an amateur who was expected to fare poorly at the 1913 U.S. Open, and who was supposedly incapable of competing against professionals.
Photos
Storyline
---
---
Details
Box Office
Company Credits
Technical Specs