The Great Gatsby
My Review:
A great movie requires a great story – and it doesn't get much better than F. Scott Fitzgerald's The Great Gatsby.  How that story is translated to the big screen is another story.
I thought this new version of The Great Gatsby was wonderful – I loved the costumes, the cinematography, the jewelry, the sets, even the melodrama of it all.  But there seemed to be something lacking… and I think that was mainly the chemistry between Daisy (Carey Mulligan) and Gatsby (Leonardo DiCaprio).  Both were fantastic separately – but together they kind of lacked that heat to make the whole premise 100% believable.  We're left with kind of that empty, shallowness that Daisy embodied.  More style than substance.
Maybe it was having Leo in the lead, he seemed a little more crazy than just crazy in love.  We've seen Leo in these crazy guy parts before, like Howard Hughes, so it's easy for him to fall into that mold.  I remember Robert Redford in the same part as more grounded, less desperate.
I saw the Robert Redford/Mia Farrow version of The Great Gatsby way back when, and I'd like to revisit that one now to compare the two.
Worth seeing.  I think it will get nominations in hair, make-up, costumes, art direction and the like.
---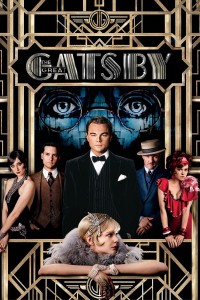 The Great Gatsby
- -
---
---
An adaptation of F. Scott Fitzgerald's Long Island-set novel, where Midwesterner Nick Carraway is lured into the lavish world of his neighbor, Jay Gatsby. Soon enough, however, Carraway will see through the cracks of Gatsby's nouveau riche existence, where obsession, madness, and tragedy await.
Photos
Storyline
---
---
Details
Box Office
Company Credits
Technical Specs