The Great and Powerful Oz
My Review:
No movie is ever going to live up to The Wizard of Oz – so don't even think about comparing the two.  The Great and Powerful Oz is a kind of prequel – the story about how the Wizard of Oz got his job.  James Franco plays the title character, and we first meet him while he's working in a kind of traveling circus.  He's a kind of smooth salesman, a charming con artist.  But there's something likable about him as well.  He gets swept up in a hot air balloon during a storm and lands in a mysterious and unfamiliar land.
As the story unfolds, this "wizard" learns he must pass a test in order to be official in this place – and three sisters, or witches, put him through his paces.  Mila Kunis, Michelle Williams and Rachel Weisz are wonderful in their roles.
The art direction is especially notable – this is a beautiful movie to watch on the large screen – and there's even a 3D option, so see that if you can.  The colors are AMAZING, and the costumes and make-up are wonderful.  Music by Danny Elfman is terrific as well.
A few scary parts, so be careful with young children – but all in all it's a great movie, fun for the whole family.
---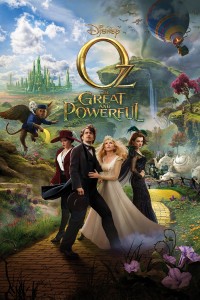 Oz: The Great and Powerful
- -
---
---
Oscar Diggs, a small-time circus illusionist and con-artist, is whisked from Kansas to the Land of Oz where the inhabitants assume he's the great wizard of prophecy, there to save Oz from the clutches of evil.
Photos
Storyline
---
---
Details
Box Office
Company Credits
Technical Specs