The Good Shepherd
My Review:
Robert DeNiro directs and has a cameo role in The Good Shepherd, based on a true story.  Matt Damon stars as Edward Wilson, one of the founders of the CIA.  Matt Damon has played the strong, intelligent, quiet type before, but never quite this intensely.  His character arc takes him from a fresh-faced fraternity boy to a cool, cunning international operative.  Somewhere in between he gets swept up and married off to his buddy's sister, Clover, the seductive Angelina Jolie.  They have a child, Edward Jr., who grows up with a long distance dad.
Lots of drama, great performances, solid story.
---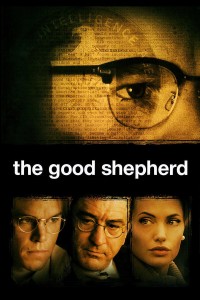 The Good Shepherd
- -
---
---
Edward Wilson, the only witness to his father's suicide and member of the Skull and Bones Society while a student at Yale, is a morally upright young man who values honor and discretion, qualities that help him to be recruited for a career in the newly founded OSS. His dedication to his work does not come without a price though, leading him to sacrifice his ideals and eventually his family.
Photos
Storyline
---
---
Details
Box Office
Company Credits
Technical Specs