The Fault in Our Stars
My Review:
The Fault in Our Stars is a basic teenage love story, complicated by the fact that the two leads have cancer. There's nothing glamorous or romantic about cancer, but the message here is that despite trying life circumstances, there can be moments of grace and perfection.
Hazel (Shailene Woodley) and Gus (Ansel Elgort) meet in a cancer support group. They bond over their irreverent sense of humor and a shared passion for a particular novel.
Both families face tough emotions while coping with the illnesses that affect everyone around them. Yet somehow Hazel and Gus manage to take one day at a time, striving to live rather than waiting to die.
Well done, well acted, well written and true to the novel upon which the movie is based. Sure to be a hit with teens. Might even be a classic in the same way that "Love Story" has become one.  We will definitely see more from Woodley and Elgort.
---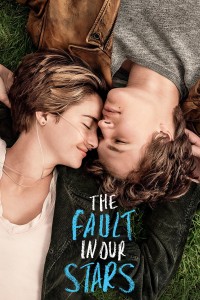 The Fault in Our Stars
- -
---
---
Despite the tumor-shrinking medical miracle that has bought her a few years, Hazel has never been anything but terminal, her final chapter inscribed upon diagnosis. But when a patient named Augustus Waters suddenly appears at Cancer Kid Support Group, Hazel's story is about to be completely rewritten.
Photos
Storyline
---
---
Details
Box Office
Company Credits
Technical Specs