The Fastest Indian
My Review:
The Fastest Indian has all the elements I love in a movie – it's a true story, it's inspiring, it's sweet, and it's original. Anthony Hopkins is wonderful and his character is lovable. Basically it's about this old guy who has a dream to race his Indian motorcycle at Bonneville. He's in New Zealand, so the dream has always seemed distant. But when he has a health scare, he puts things into fast-forward and is more determined than ever to make the trip to the U.S. This is the kind of movie that the whole family will love. It's got lots of rooting factor, humor, tenderness, drama, and a happy ending.
---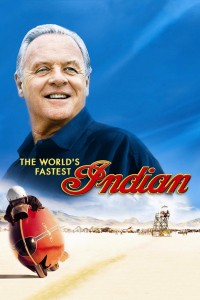 The World's Fastest Indian
- -
---
---
The life story of New Zealander Burt Munro, who spent years building a 1920 Indian motorcycle -- a bike which helped him set the land-speed world record at Utah's Bonneville Salt Flats in 1967.
Photos
Storyline
---
Details
Box Office
Company Credits
Technical Specs