The Best Exotic Marigold Hotel
My Review:
I wish there were more movies like The Best Exotic Marigold Hotel!  Stellar cast: Judi Densch, Dev Patel, Bill Nighy, Maggie Smith and more all turn in wonderful performances.  The story is that a group of people, with no relationship to each other, find themselves moving to India to retire to a new "exotic" retirement community.  Of course, things aren't what they appeared to be on the internet when they arrive.  But through a series of events, and some time to get to know each other, they form a kind of family of their own, and learn just what it is that makes them happy and comfortable.  Sweet, charming, touching, funny… this movie has so much going for it.  Highly recommended!
---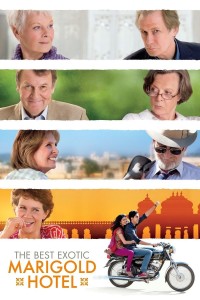 The Best Exotic Marigold Hotel
- -
---
---
British retirees travel to India to take up residence in what they believe is a newly restored hotel. Less luxurious than its advertisements, the Marigold Hotel nevertheless slowly begins to charm in unexpected ways.
Photos
Storyline
---
---
Details
Box Office
Company Credits
Technical Specs