The Aviator
My Review:
All I can say is "wow." Another awesome biopic, this one about the life of Howard Hughes. It's often been said that there is a fine line between genius and insanity, and I think this sums up Mr. Hughes pretty well. The guy was just plain brilliant, and fearless – and yet strangely paranoid at the same time. Early scenes hint at the source of the neuroses, but I don't know if anyone really knows for sure what went though the man's head.
Martin Scorsese directed – I'm a fan, and this is the best I've seen from him. Leonardo DiCaprio plays Howard Hughes convincingly – a very strong performance, and he won the Golden Globe for it this year. Cate Blanchett plays Katharine Hepburn. Wasn't as thrilled with her, seemed kind of caricature-ish. Story is tight, cinematography is beautiful. This is one of my favorites for 2004.
---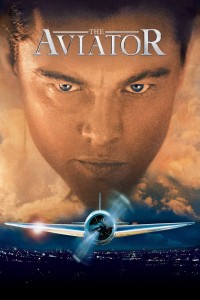 The Aviator
- -
---
---
Martin Scorsese's Oscar-winning biopic about the life of film-maker and aviation pioneer Howard Hughes from 1927 to 1947, during which time he became a successful film producer and an aviation magnate while simultaneously growing more unstable due to severe obsessive-compulsive disorder. After a scene from 1914, which may explain his later fear of dirt and disease, the film starts in 1927 during Hughes' filming of the World War I aviation film "Hell's Angels". He's 22 years old, has inherited the family's fortune and tool company, but wants to spend his time making film instead. However, he soon finds himself just as involved in the aviation industry, buying an airline and developing new planes.
Photos
Storyline
---
---
Details
Box Office
Company Credits
Technical Specs