Swing Vote
My Review:
Swing Vote is all about Kevin Costner.  He stars in it, and he put up the money to get the movie made.  It's a civics lesson for all of us, especially with the upcoming election.  Kevin's character has been described as a lovable loser.  But therein lies the problem with this movie.  I didn't think Bud was lovable at all.  He's a single father, who is a terrible parent.  He drinks too much, can't hold down a job, and his 12 year old daughter is basically raising him.  The daughter, Molly is played by Madeline Carroll, and she's really wonderful.  Smart, funny, savvy, and a darn good little actress.  When Molly needs to get her dad to vote to complete her class project, Bud is passed out drunk.  So she goes to the polls for him, but the electricity goes off and the vote isn't counted.  Then, in an extremely unlikely turn of events, the election is deadlocked, and it's up to Bud to re-cast his vote and elect the president of the United States.
Of course we're going to see some character arc, as Bud is wooed by the candidates and eventually gets his act together to display some responsible behavior.  But in my book, it's too little too late, he's already come off so badly that I felt his character was irredeemable.  Kelsey Grammer and Dennis Hopper play the opposing candidates.  Paula Patton is an upcoming news reporter who befriends Molly.
Certainly a conversation generator for families.
---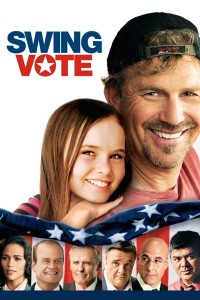 Swing Vote
- -
---
---
In a remarkable turn of events, the result of the presidential election comes down to one man's vote.
Photos
Storyline
---
---
Details
Box Office
Company Credits
Technical Specs