Star Wars 3: Revenge of the Sith
My Review:
I am proud to say that I have now seen every one of the Star Wars movies, in the theatre! There's a whole new generation of kids who have seen Star Wars on video or DVD, but I remember when the first series hit theatres, and what a huge impact it had on pop culture. And movie-making has never been the same!
And now George Lucas has done it again. This last, and supposedly final film in the Star Wars saga, wraps it all up for us, answers all of our questions, and parades out all of our favorite characters. It's a classic. What I love so much about this particular movie are the characterizations. We really get to know Anakin, and his motivations, and his fears – what led him to the "dark side." It's quite a character study, and Lucas is brilliant in the way that he brings it to life.
One caveat: Star Wars 3 is rated PG-13. It's the first movie in the series that got that rating, the others are just PG. I'm sure this rating is for the violence. So, just be prepared if you want to bring your kids. I think probably age 10 and up can handle it, especially if they're already familiar with the Star Wars stories. Younger than that I would think seriously before taking them.
Hayden Christensen is marvelous as Anakin – a role that he'll be forever associated with. He's a fine young actor, and I expect we'll be seeing a lot of him. Natalie Portman already has an Oscar nomination under her belt. She is destined to be one of the most memorable actresses or her generation.
Expect to see a few Oscar nominations for this one – certainly for special effects.
---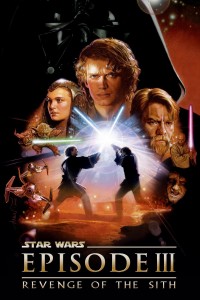 Star Wars: Episode III - Revenge of the Sith
- -
---
---
Years after the onset of the Clone Wars, the noble Jedi Knights lead a massive clone army into a galaxy-wide battle against the Separatists. When the sinister Sith unveil a thousand-year-old plot to rule the galaxy, the Republic crumbles and from its ashes rises the evil Galactic Empire. Jedi hero Anakin Skywalker is seduced by the dark side of the Force to become the Emperor's new apprentice -- Darth Vader. The Jedi are decimated, as Obi-Wan Kenobi and Jedi Master Yoda are forced into hiding. The only hope for the galaxy are Anakin's own offspring -- the twin children born in secrecy who will grow up to become heroes.
Photos
Storyline
---
---
Details
Box Office
Company Credits
Technical Specs