Spiderwick
My Review:
Based on the popular children's books, Spiderwick is rated PG, and has enough action to keep the whole family entertained.  There are some scary parts, I wouldn't recommend the movie to kids younger than about age 7.  Talented young Freddie Highmore (August Rush, etc) has a dual role as twin brothers.  One is more skeptical, withdrawn and serious, the other is angry, curious and outgoing.  Mary-Louise Parker is the mom.  She moves her kids out to her aunt's old home in the country to start a new job.  When their mom is at work, the kids discover that there is more to this old home than they ever imagined.  A whole new world of other-worldly creatures opens up!
---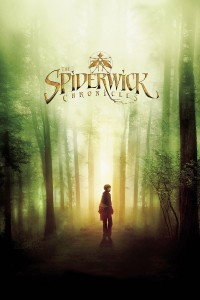 The Spiderwick Chronicles
- -
---
---
Upon moving into the run-down Spiderwick Estate with their mother, twin brothers Jared and Simon Grace, along with their sister Mallory, find themselves pulled into an alternate world full of faeries and other creatures.
Photos
Storyline
---
---
Details
Box Office
Company Credits
Technical Specs