Side Effects
My Review:
If you're looking for a Hitchcock style thriller – Side Effects is IT!  This is edge-of-your-seat, hands-over-your-mouth, non-stop, keeps-you-guessing drama!
First we meet Channing Tatum (People Magazine's Sexiest Man Alive 2012), half of our perfect couple, just out of jail for insider trading.  His other half, the beautiful, sweet, devoted Rooney Mara (who made a quick name for herself as The Girl With the Dragon Tattoo) is adjusting to his being home again.  After what might be described as a nervous breakdown, the young wife meets a smart psychiatrist, played by Jude Law.  With the doctor's help, the couple navigates through the world of prescription medication to try to alleviate the wife's depression.  With, some side effects – hence the title.
As the story continues, more and more questions arise, and things are not quite as simple as anyone believed them to be.
Well written, well crafted, totally worth seeing.  Rated R for some graphic violence.  For adults only.
---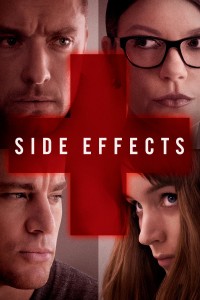 Side Effects
- -
---
---
A woman turns to prescription medication as a way of handling her anxiety concerning her husband's upcoming release from prison.
Photos
Storyline
---
---
Details
Box Office
Company Credits
Technical Specs