Shrek the Third
My Review:
Delightful!  All of our favorite characters are back, as funny as ever.  Mike Myers voices Shrek, who has now inherited the throne from his father-in-law.  He doesn't want the job, so he goes off with his buddies Puss-in-Boots (Antonio Banderas) and Donkey (Eddie Murphy) to find Arthur (Justin Timberlake), the only other heir.  Meanwhile, back in Far Far Away, Prince Charming has taken over the Kingdom and Fiona (Cameron Diaz) leads Snow White and the other princess in an attempt to make things right again.
Sweet and funny, the animation is colorful, the action is fast and fun.  A nice early summer escape, an entertaining night at the movies for fans of all ages.
---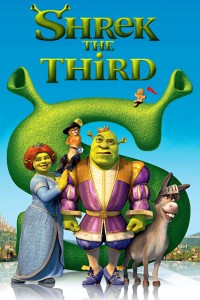 Shrek the Third
- -
---
---
Shrek and Co, return for more adventures. The King of Far Far Away has died and Shrek and Fiona are to become King & Queen. Shrek however wants to return to his cozy swamp and live in peace and quiet. So when he finds out their is another heir to the throne, they set of to bring him back to rule the kingdom. Meanwhile, Prince Charming enlists the fairy tale baddies to steal the throne away.
Photos
Storyline
---
---
Details
Box Office
Company Credits
Technical Specs