Shoot 'Em Up
My Review:
The trailer for Shoot 'Em Up looks good – and my husband thought it would be quite a hoot as it's billed as a comedy.  I went along, considering how many "chick flicks" I've dragged him to, and knowing that I'd get to look at Clive Owen for a little while.
This has to be rank right up there with one of the worst movies I've ever seen.  Not just this year, but ever.  The parts that are supposed to be funny, are just not funny at all.  The violence is over the top, in a bad way.  And the sex is pretty bad, too.  How this movie got an "R" rating and not an NC-17 is beyond me.
Clive is a reluctant hero, on a self-proclaimed mission to protect a baby.  Seeing this poor little baby in jeopardy makes my skin crawl.  How could anyone consider this entertainment?
The only reason I'm not giving it an F is because Clive Owen is still a hunk.
Don't see it.
---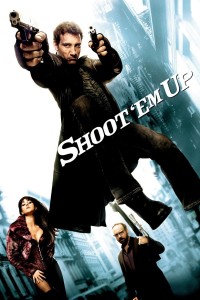 Shoot 'Em Up
- -
---
---
A man named Mr. Smith delivers a woman's baby during a shootout, and is then called upon to protect the newborn from the army of gunmen.
Photos
Storyline
---
---
Details
Box Office
Company Credits
Technical Specs