Robin Hood
My Review:
Russell Crowe takes on the role of Robin Hood in this new version of the classic film.  It's really the story of how Robin Hood got to be Robin Hood – it's kind of a "prequel" to the other films.  In that way, it's interesting. Robin is an archer in the king's service, and then ends up assuming an identity in order to help avoid a war with France. The characters are well drawn and the setting is quite cinematic.  I guess the only way we have to suspend disbelief is that Robin Hood started this "robbing from the rich" career a little late in life!  Cate Blanchett is a strong and determined Marian.  She's "Lady Marian" in this version, and she's capable enough to ride right alongside the men to save the day.
This is an adventure – and a fun one at that.
---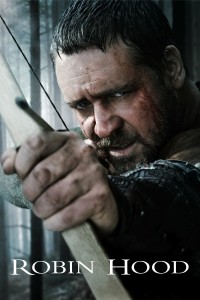 Robin Hood
- -
---
---
When soldier Robin happens upon the dying Robert of Loxley, he promises to return the man's sword to his family in Nottingham. There, he assumes Robert's identity; romances his widow, Marion; and draws the ire of the town's sheriff and King John's henchman, Godfrey.
Photos
Storyline
---
---
Details
Box Office
Company Credits
Technical Specs