Ray
My Review:
I'm a sucker for biographies. Truth is always more interesting to me than fiction. If someone wrote the life of Ray Charles as a novel it would be hard to believe, and yet, this amazing man lived this truly remarkable story. Luckily, someone was smart enough to put it on the big screen for all of us to witness.
The movie is so well done in every way. Jamie Foxx, most recently seen in "Collateral," is outstanding in the title role. As Ray goes through a plethora of both ages and emotions, Foxx shows his broad range. This is an award-worthy performance from a gifted actor.
The way the scenes move from Ray as an adult, to Ray looking back on his childhood, gives us glimpses into the events that shaped this man's character.
The music, of course, is awesome – mostly vintage Ray Charles himself.
Well directed, well written, well shot.
Rated R for scenes of drug use and language. I think mature teens 14 and up could handle it.
---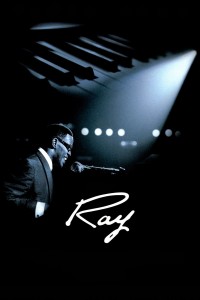 Ray
- -
---
---
Born on a sharecropping plantation in Northern Florida, Ray Charles went blind at seven. Inspired by a fiercely independent mom who insisted he make his own way, He found his calling and his gift behind a piano keyboard. Touring across the Southern musical circuit, the soulful singer gained a reputation and then exploded with worldwide fame when he pioneered couping gospel and country together.
Photos
Storyline
---
---
Details
Box Office
Company Credits
Technical Specs