Ratatouille
My Review:
Pixar has done it again – and they'll likely win "Best Animated Picture" again this year for "Ratatouille."  Set in Paris, France, the movie has its own unique world – which is the hallmark for these excellent films.  We see the city through the eyes of our hero, Remy, a rat who dreams of being a chef.  How he fulfills his dream, and influences those around him along the way, is the premise of the story.
What we love about Remy right off the bat is that he's got passion.  And he's different from those around him in that he has ambition, as well.  He's curious, and clever, and brave – a great combination for a Disney hero.  And he's confident, even given the most unlikely circumstances under which he must perform, which makes us root for him all the more.
Ratatouille says a lot about friendship, following your dream, and being true to yourself.  It's a wonderful movie for the whole family.
---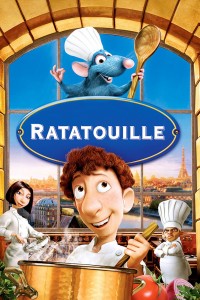 Ratatouille
- -
---
---
In one of Paris' finest restaurants, Remy, a determined young rat, dreams of becoming a renowned French chef. Torn between his family's wishes and his true calling. Remy and his pal Linguini set in motion a hilarious chain of events that turns the City of Lights upside down.
Photos
Storyline
---
---
Details
Box Office
Company Credits
Technical Specs